Thanks to
Jess
over at J's Everyday Fashion, you're meeting this outfit today. Until she said something, I had not even considered these two items (both from my
Reverse 30x30
) together.
The dress, thanks to this self-imposed challenge, will remain a part of my closet. I have not yet determined another way I'll wear it, but, my
word
, is it comfortable. Any item of clothing this snuggable (not a word?) deserves a million more wears. Plus, I could totally use the same formula again this winter: dress + tights + blazer + scarf + booties. Easy peezy, lemon squeezy.
The blazer might be taken out to pasture. I'm not sure how I feel about the fit. If it were a bit longer and a true boyfriend blazer, I could deal with its being a little looser, but it's not. I know a tailor could (maybe) take in a blazer to fit my itty bitty chest, but does it go with enough items in my closet in order to justify the expense? I'm not sure. I haven't given up on it quite yet. I'll try it with jeans and a blouse. Maybe a different silhouette under the blazer will breathe a new, better life into it? Crikey, I need to stop personifying my clothes. What are your thoughts (on the blazer's fit, not my need to anthropomorphize articles of clothing)?
Granted, my husband
and
colleagues approved of the look, so am I being too hard on the blazer? Give it to me honestly.
Oh, and I'd have better quality images for you today (crappy iPhone pictures in
natural
lighting versus crappy iPhone pictures in awkward, yellow lighting), but it's all wet snow filthy mcnastiness out there, and my husband isn't home yet, and my neighbors generally creep me out. Plus, I'm rocking out in front of my new floor mirror from Target. (It's
this one
, and I did in store pick-up, which might be the best invention...aside from the floor mirror, of course. It's $49.99. NOT bad compared to the prices I saw on Amazon, Overstock, and elsewhere!)
Reversed Item 1: Navy Dress (dress I took in from Old Navy 'cause it looked like a sack for spuds)
Reversed Item 2: Printed Blazer (The Limited)
Tights: Simply Vera via Kohl's
Booties: Old Navy
Scarf: Calvin Klein via DSW
Necklace: The Limited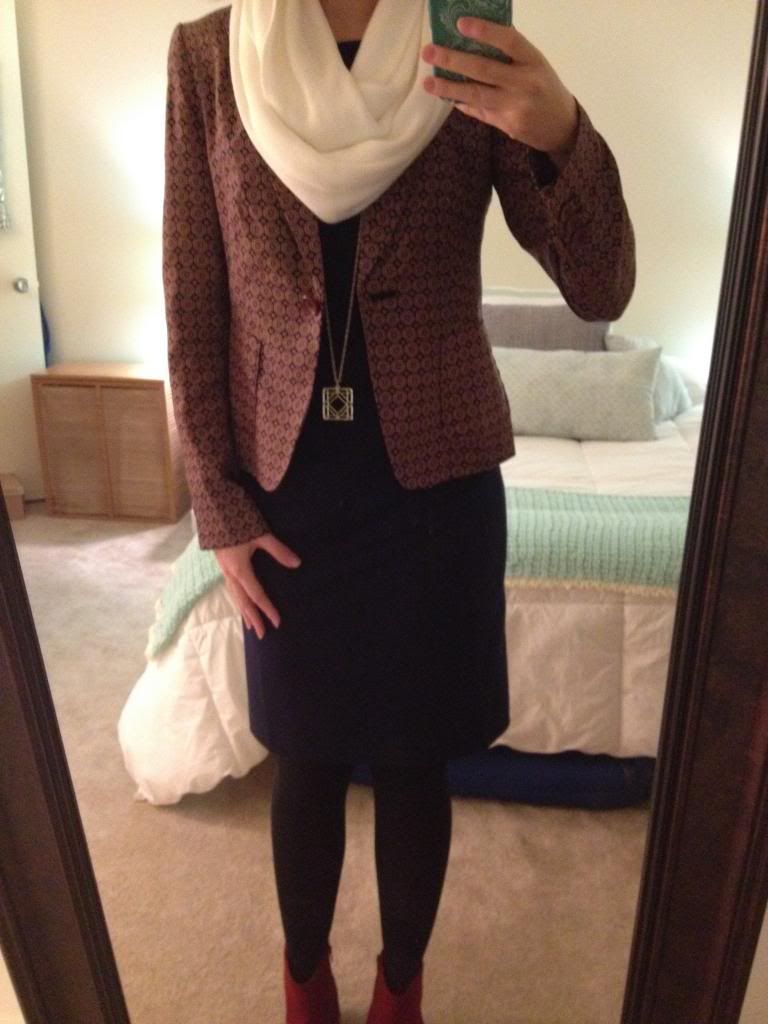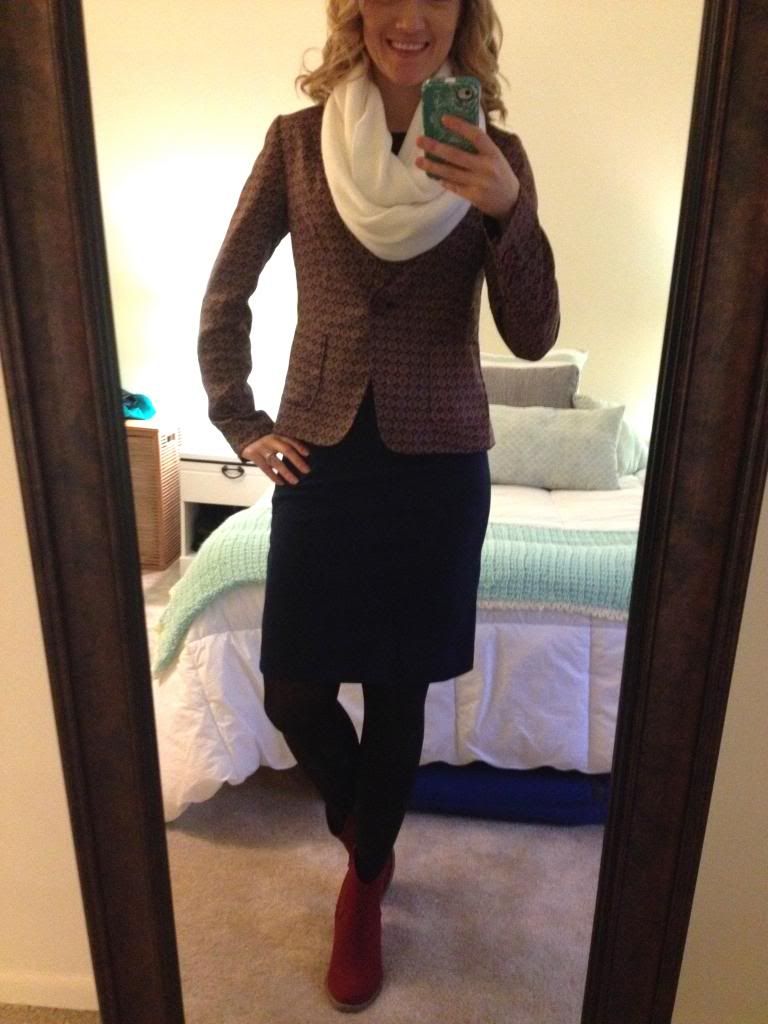 Let's keep a running tab of the items I reverse with some notes thrown into the mix.
Feel free to tell me some combinations you see or ideas you have. This brain made of Swiss cheese could certainly use all the help it can get.
Reverse 30x30 Items
1. coral and khaki skirt
2. gray and yellow skirt
3. white pencil skirt
4. teal velvet pants
5. polka dot tights
6. khaki pants
7. brown boots
8. black wedge booties
9. red heels
10. tri-color wedges
11. aztec scarf
12. teal necklace
13. striped dress
14. tan dress
15. navy dress (off probation but not officially reversed)
16. polka dot shirt (officially reversed)
17. polka dot cardi
18. polka dot blouse (tomorrow's look!)
19. printed blazer (on probation, might be leaving the closet)
20. chambray
21. paisley blouse
22. gray shirt
23. paisley blouse 2
24. emerald sleeveless sweater
25. navy sweater
26. blush sweater with silver polka dots
27. silver sweater
28. black sweater
29. white lace sweater
30. orange sweater