I have considered this whole
30 x 30
thing for awhile now--most recently because of
Brynn
--but I just haven't mustered up the courage for it. Plus, I know my head would spin by day 20, I'd grow frustrated, and I'd ultimately quit just like I quit the saxophone in fifth grade. I don't want to be a quitter. However, the thought of challenging myself sartorially appeals to me, so I did a little (okay, a lot) of thinking.
I said, "Self, why do you want to do a 30 by 30?" The answer is that I want to think differently about my wardrobe and really utilize the clothes in it (stop buying so much "just because it's a great price," you compulsive ninny), but what if I get sick of the clothes I choose? What if I pick all the wrong clothes and wind up nekked as a jay bird (OH MY!) before day 30? What about the other clothes in my closet that feel unloved for 30 days? What if, what if, what if?
Solution? What I'm calling, for lack of a more creative name, a
"Reverse" 30 x 30
. What is a reverse 30 by 30 you ask? Well, instead of picking 30 items you love and remixing them with each other for one month, you pick 30 unloved or neglected items and focus on pulling them into your daily repertoire. You don't take 30
out
of your wardrobe and work with just those. You try adding 30 back
into
your wardrobe (treating old stuff like it's new!) Every day, you choose a different item from your list of 30 and include it in an outfit. Rely on the clothes you love most to help out the ones you're not loving enough. If you wish to throw two into one day or repeat one of those items during the 30 days, get down with yo' bad self. The rules are loose as a goose. (I really don't understand that idiom.)
Essentially, the focus of the challenge is this: help your well-loved clothes to befriend and refriend the kids picked last for dodgeball. If you spend some time
defining your style
and
developing a signature look
, it might help you reintroduce those clothes (or determine that they're not meant to be in your closet. That's okay, too.) Hopefully, your previously unloved or not-loved-enough clothes will become well-loved in 30 days. Feel free to join me on this adventure. Join for a month, a week, a few weeks, whatever tugs on your heart's strings.
It's time for you to meet the new kids on the block who will one day, I hope, become the cool kids on the block. After taking pictures of the items, I started
this Pinterest board
to help me style the following pieces. (I encourage you to do the same with your 30 items.)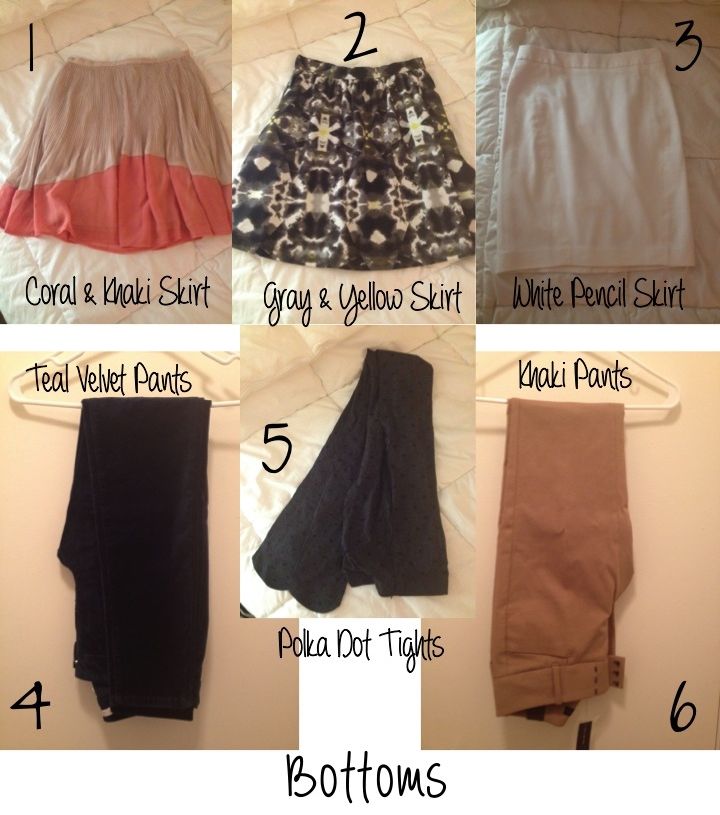 1. Love this skirt because of its fit and the flecks of gold, but I always forget about it/struggle with styling it.
2. I styled this skirt in the spring, but it has yet to make a fall/winter appearance. It needs to become part of a winter look.
3. I want to challenge myself to wear this white in winter, not summer.
4. These pants are so soft, but I have yet to wear them more than
once
. WHY!? I'm sorry, pants. I'll wear you this month.
5. I bought these gray and black polka dot tights thinking they'd be so useful, yet I haven't worn them. For shame.
6. Why do I buy khaki pants but almost never wear them? I seem to love every other color pants, but these are the most neglected. It's like I think they're too boring. I need help.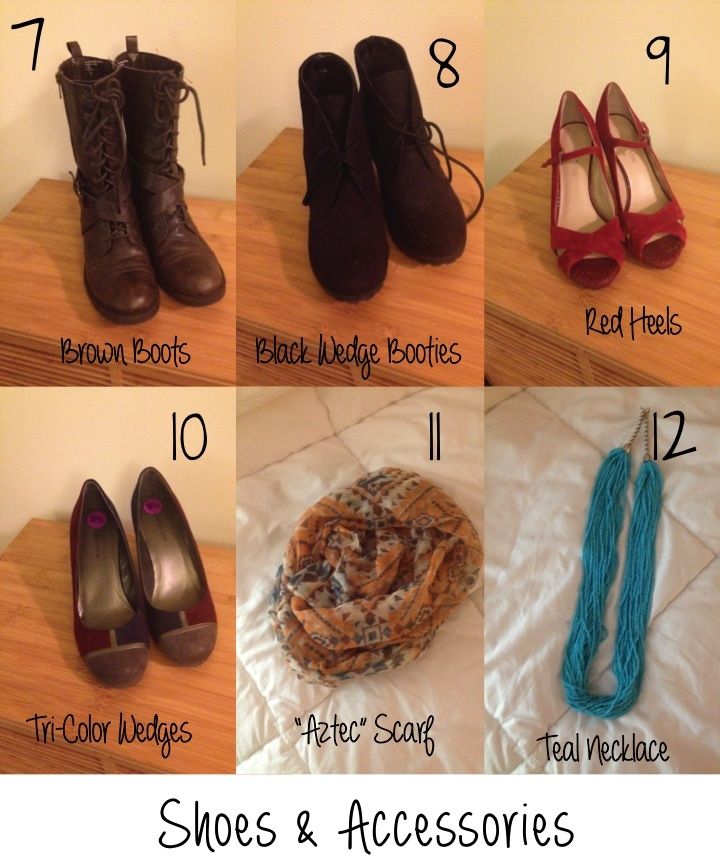 7. I love these boots and wore them a bunch last year, but I have yet to wear them this winter/fall. I want to try them with a skirt and be all funky.
8. Same as the brown boots. Wore these a lot last year, but not so much this year. They'd go well with that gray, black, yellow, and white skirt (number 2).
9. I want to try that whole tights and peep toes thing. I like it. Let's branch out.
10. I wore these wedges
once
, but I really didn't like the outfit, which I guess prevented me from wearing them again despite how comfortable and fun they are.
11. This scarf was $5 at Charlotte Russe. I love the print and colors, but it has gone unworn for a year.
12. I hunted forever for this necklace, yet I haven't worn it once since buying it. What the far?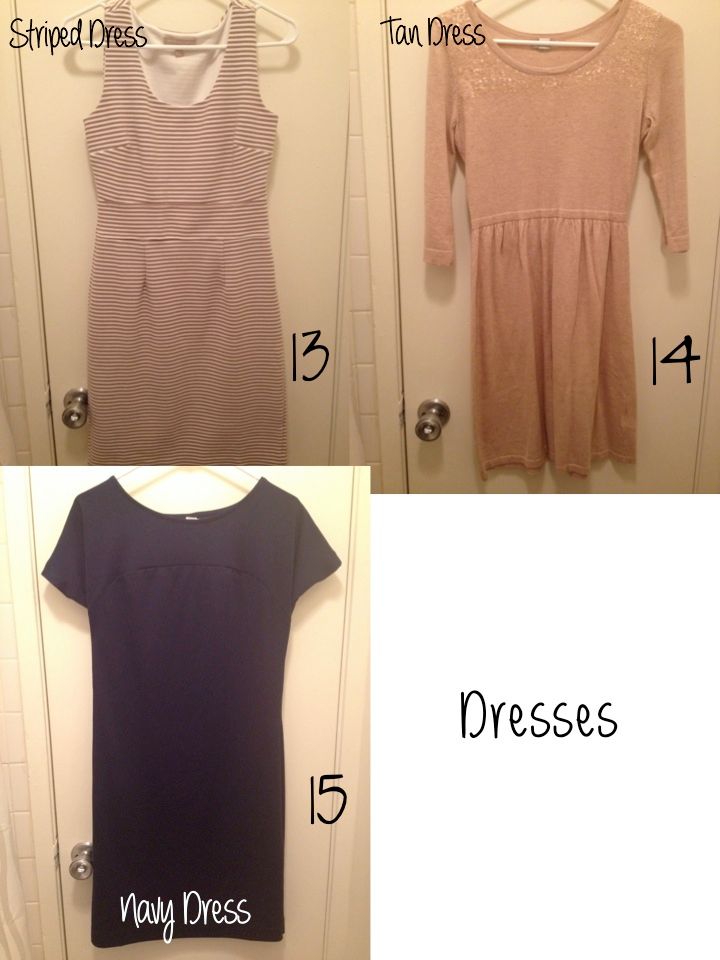 13. I styled this dress
here
and also showed you
six ways
to style it, yet I have not worn it once this fall or winter. Tsk tsk.
14. I loved it so much when I saw it online at Old Navy, but it still bears its tags several months later. I want to try it with a chunky sweater, some tights, and brown boots.
15. I altered this dress since it came from Old Navy online looking like a sack. I was so proud of my alterations, yet I still haven't worn it. I bought it with the tan dress (number 14). It'd go well with those wedges in picture 10.
16. I hunted for a shirt like this, yet I rarely wear it.
17. I
love
this cardigan, but it doesn't leave my closet.
18. This month is a trial run for this blouse. If I can't make it work this month, it might have to go bye bye.
19. Loved the print of this blazer, bought it over a year ago, and not once have I donned it.
20. You are probably squinting and saying, "WAIT. Is that a chambray shirt? What is wrong with her?" Something about the little embellishments on the collar leave me clueless about this shirt despite how much I love it and rocked it that
one time
I wore it.
21. I like the colors and have worn it once, but it's on probation.
22. I think the cut is flattering, but it goes unworn.
23. It goes with SO MANY things in my closet, but its sheerness detracts me. It's called a camisole, idiot.
24. Mom bought me a pretty black maxi. I should finally break out this sweater again to wear with that skirt.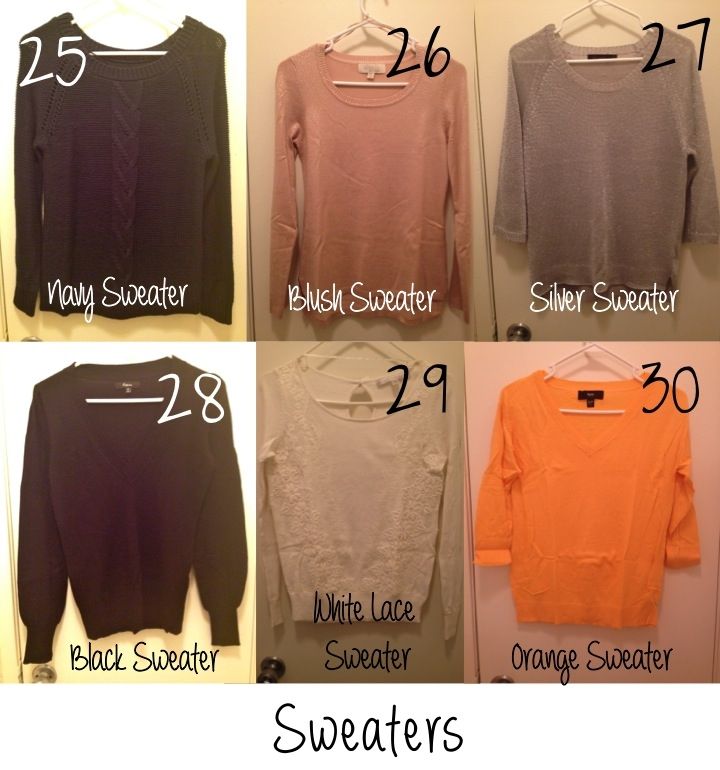 25. I know. A navy sweater on the list? Guys, it's still wearing the tags a year later.
26. I have a way to wear it, but I need to follow through. (Has some silver sparkle in it.)
27. I wore it once or twice in the past, but it stumps me now.
28. Something about the deep V throws me off. Why? It's a black sweater. How hard can it be to style a
black
sweater?
29. I bought it on clearance when it was too warm to wear it and haven't broken it out this fall
or
winter, but it has such pretty lace detailing!
30. Love the bright orange color, but I don't think I have ever worn it. Can't you tell from the ridiculously wrinkly sleeves?
Okay, does this challenge sound ridiculous? Or, would you like to join in on the fun? Should I do a link-up at the end of the month? Every Friday? Or, should I brave this storm alone?
Linking up with
Style Sessions
.