I have the best colleagues.
After school today, two of the women in my department raced each other in their motorized wheelchairs/scooters. All the way around the school.
So hysterical.
The dentist called this morning to bump my root canal appointment to tomorrow at 8:30 (instead of next Wednesday)! Two of my colleagues offered to watch my classes until I could come in.
So generous.
Every week, a different staff member decides the theme for the following week's Trendy Tuesday. Tomorrow's theme is CORAL. I sent out a staff e-mail informing my fellow fashionistas and fashionistos of tomorrow's theme. The number of dudes who responded was fantastic. They might actually be having as much if not more fun than the ladies are having!
So fun.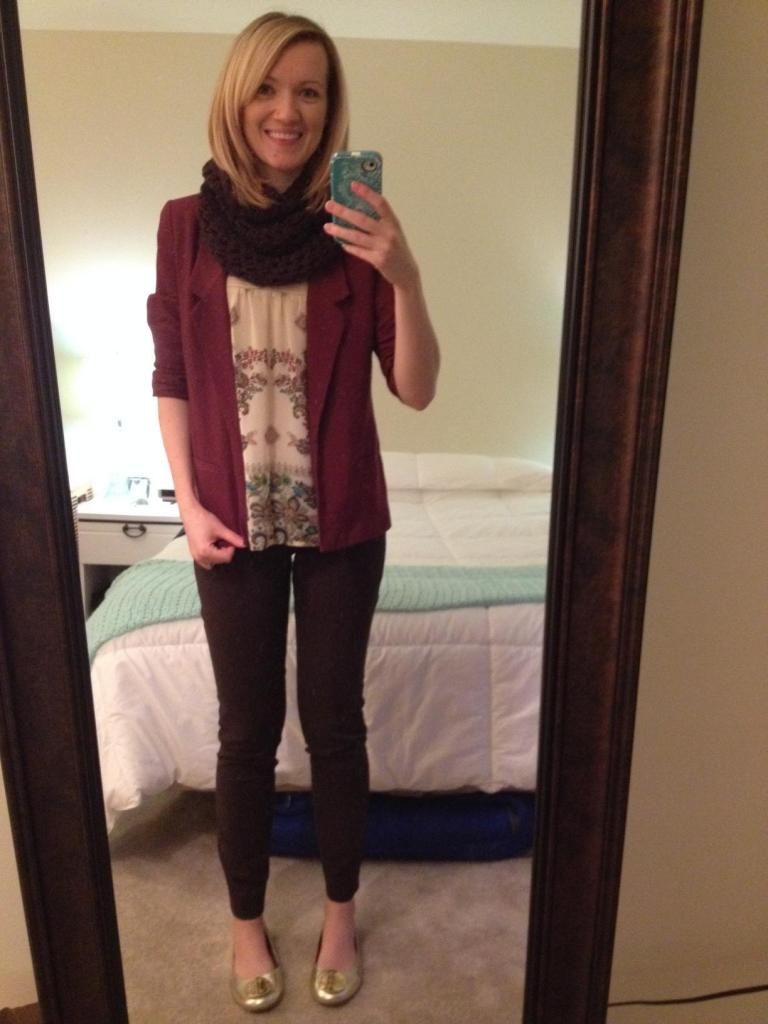 Reversed Item: Paisley Blouse (LOFT)
Pants: The Limited (Exact Stretch Skinny Pants)
Flats: Audrey Brooke via DSW
Blazer: Lauren Conrad via Kohl's
Scarf: Made by my Momma
Reversed 30x30 Update:
(
Original Post
in case you want pictures and a run down of this challenge)
1. coral and khaki skirt
2. gray and yellow skirt
3. white pencil skirt
5. polka dot tights
6. khaki pants (
officially returned
)
7. brown boots
9. red heels
10. tri-color wedges
11. aztec scarf
12. teal necklace
14. tan dress (
officially rejected
)
16. polka dot shirt (officially reversed)
17. polka dot cardi
19. printed blazer (on probation, might be leaving the closet, LEAVING the closet)
21. paisley blouse (
officially rejected
)
22. gray shirt (
officially rejected
)
23. paisley blouse 2 (reversed for today's look)
24. emerald sleeveless sweater
25. navy sweater
26. blush sweater with silver polka dots
27. silver sweater (
officially rejected
)
28. black sweater
30. orange sweater
31. long-sleeve purple shirt
32. gray skinnies
33. light khakis
34. gold blazer