I have a confession to make. I pulled together this outfit, but khaki pants still leave me utterly confused. Well, not all khaki pants. That one pair of dark khaki skinnies blends into my closet, and they've earned their keep. But, these khaki pants? What is it about them? Maybe it's the years I spent waiting tables while donning a dark green polo and light khaki pants (possibly these...I think I blocked the memories after that one early morning I ripped my front bumper off on the bumper of my neighbor's stupid illegally parked truck. Still went to work that day. With a grill that looked twenty shades of pissed off.) I feel like I'm one shirt change away from serving customers at Target. I love Target, but do I want everyone to think of it when they see me?
Is my perception of these pants absolutely skewed? Do I need to set the sewing machine on them and make the bottoms more tapered/cropped? Is it the fabric? Is the khaki too light? AM I TOO CRAZY FOR WORDS? (That last one is rhetorical.)
* See,
this pin
shows more cropped khaki pants. I think they work.
*
These pants
have polka dots on them, but the khaki is the same color, and they're skinnified (not a word, which is totally fine). I like the look of
them
.
* I love
this combination
, but the bottom of the pants look different. (I'm completely amused by the commenter who said she wasn't sure about the pants.)
I don't want to get rid of these pants because I like that I can wear wide belts with them, I love the pockets (not those stupid, you-can-fit-half-of-your-thumb-in-me pockets), and I do like the color. However, I think it's the bottom of them that perplexes me. I feel weird in flats (sort of bunches). I'm not entirely sold on the booties here. Regular boots won't go over the pant legs without causing serious leg wrinkles. I tried the khaki exact stretch pants from The Limited (have them in maroon, brown, and navy), but I didn't like the shade or the look of the khaki ones, which is odd since I have them in three other colors.
What would you do if you were me? (Aside from the obvious, which is to scold yourself for writing so many sentences about one pair of pants.)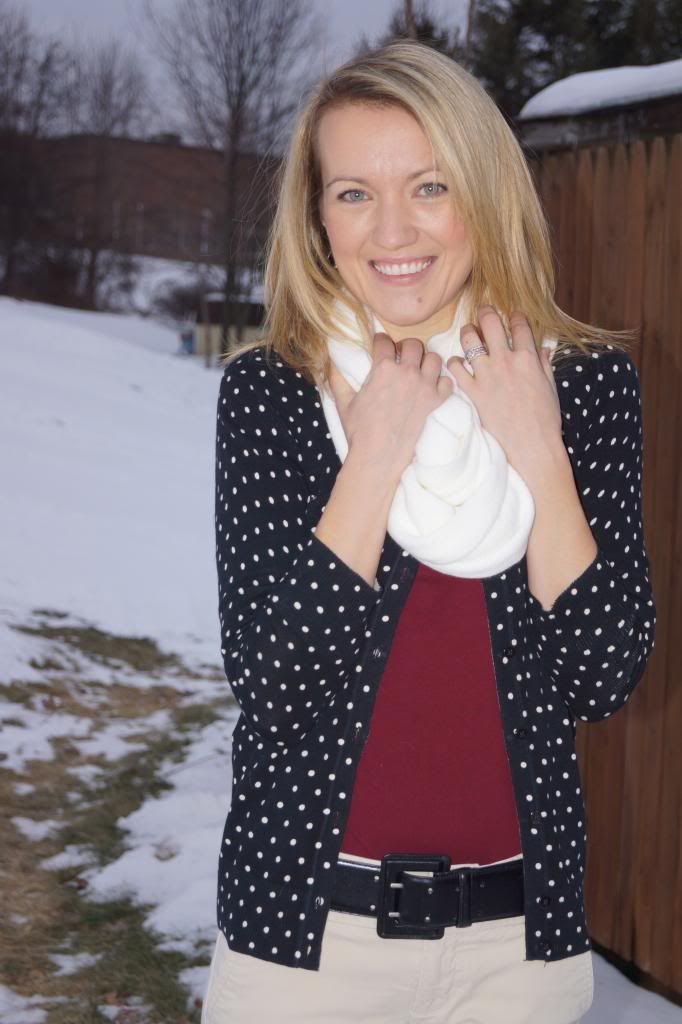 (This is my "what am I doing outside in the cold without a coat on and, Mom, why aren't you stopping me from this madness" look. I tell you only to explain why I felt compelled to grab my scarf. My hands inherently search for warmth.)
The Look:
Cardigan (reversed item 1): Target (gift!)
Shirt: Target
Belt: Ummm...so old I couldn't tell you with complete honesty
Scarf: Calvin Klein via DSW
Booties: hand-me-downs from Momma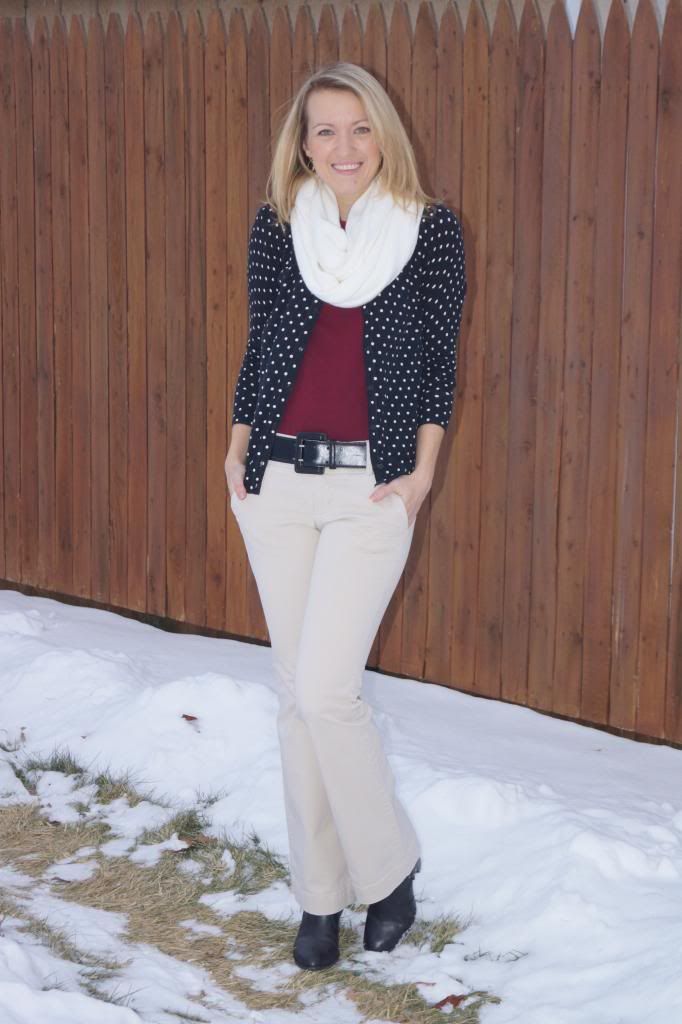 (I'm laughing right now because I said these are not I-can-fit-half-a-thumb-in-them pockets, and I'm totally sticking only half of my thumb in the pockets. However, the previous picture is a full-hand-in-pocket pose. This post just keeps getting more and more awkward.)
Feel free to rebuke me for my trivialities.