After reading
Brynn's
post about revamping her wardrobe, which led to
AJ's
post about her "uniform," which was inspired by
Into Mind's
post about the 10 Step Wardrobe Revamp, I decided to take notes on my own wardrobe. What did I wear most often? What do I wish I wore more often? What should I have styled differently? And the list goes on. I found the topic relevant to the coming new year, so, today, I decided to compile a list of items from my closet that subconsciously (and sometimes consciously) became some of my most loved pieces. 13 for 2013. What makes this post a bit different? I made a "resolution" for each of these pieces.
Tomorrow, I will tackle defining my style and setting up for a January 30x30, my first ever.
1.
If I had a sister and that sister were a color, she'd be cobalt. I have stripes, flats, wedges, a blazer, and several shirts in this color. No wonder it was one of my wedding colors in 2011.
2014 Resolution: These flats might need a more expensive, higher quality replacement this year.
2.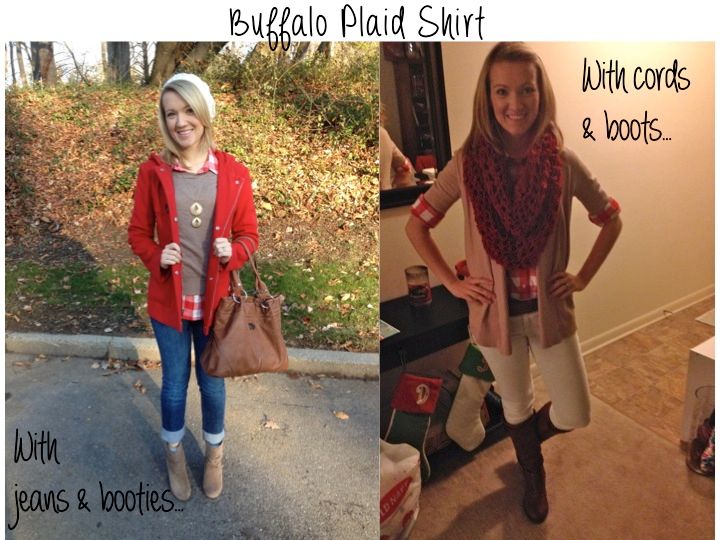 I have this shirt in red and black (pictured below.) Whether it be tiny checks in the form of gingham or this buffalo plaid, I love it. This year, I experimented more with layering (under dresses, cardigans, blazers, and sweaters.) Old Navy is still my favorite place to buy these shirts, and I really don't see that changing.
2014 Resolution: Wear it with a skirt because I haven't tried that combination yet.
3.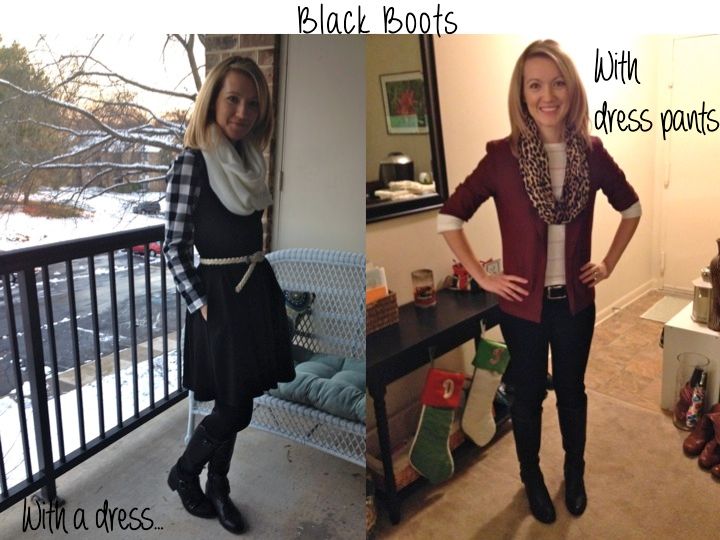 I have flat black boots, black boots with a heel, black wedge booties, and black buckle booties. No pair of black footwear is safe around me.
2014 Resolution: I'd like to find a really nice pair of black flats that I love almost as much as my black boots. (I'm a boot hoarder, so I know no other footwear can compare. A close second? Sure.)
4.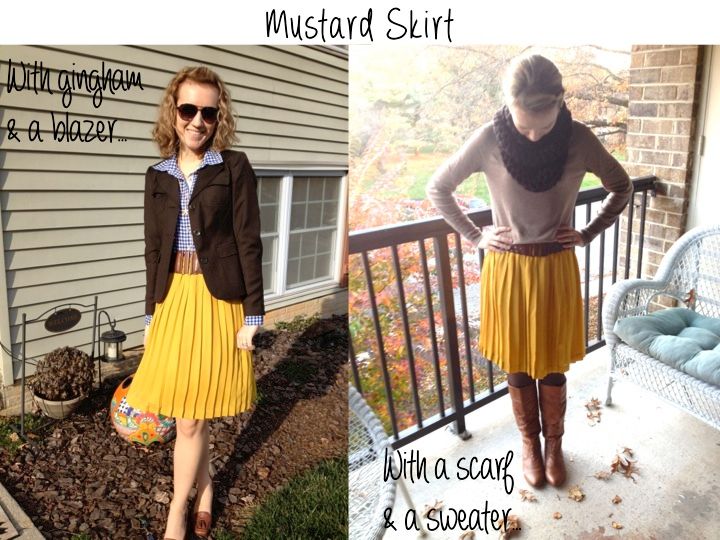 I love this color and this skirt. I just bought mustard skinnies (finally found a replacement pair and, boy, are they soft.) I've worn it with only this brown braided belt.
2014 Resolution: Since I seem to wear it with only browns, I would like to try this skirt with my black belt or even a shirt tied in front of it (no belt.) I love the fit and length. I admire the bumble bee's black and yellow look, so why not imitate it with this skirt?
5.
All of the infinity scarves (a.k.a. crumb catchers) that my Mom crochets get so much wear. They are by far my very favorite part of fall and winter.
2014 Resolution: This resolution is a bit different. My resolution? Learn how to make my own! My Mom crochets all of these crumb catching bad boys for me, and she's so kindly agreed to teach me. I tried arm knitting, and it was a miserable failure.
6.
This dress has shrunk a little bit, so I can wear it to work only if I have tights.
Maybe I need to find a longer striped dress for spring and summer?
2014 Resolution: Find a suitable spring/summer striped dress that won't shrink. Must be able to wear it to work without looking like a hoochie.
7.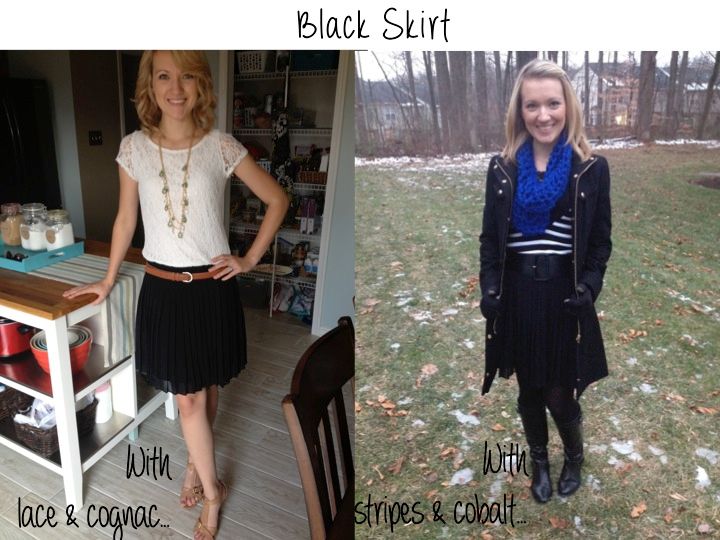 This skirt is similar in style (pleats and hits above the knee) to the mustard skirt. I guess I like pleated skirts? They flow freely and don't overly accentuate my hips. I'm proud that I branched out this year and tried the skirt with cognac. That outfit on the left might be one of my favorite looks of the whole year.
2014 Resolution: Wear it with a bit more color and dress it down. Try it as part of a weekend look.
8.
I know why people buy J.Brand jeans for full price. I bought these for less than $60 at TJMaxx. They fit like a dream. I like that I've tried them with a closer fitting top (blazer completes the look) as well as a looser top. I felt very 70s in the right-hand look. How else should I wear them this year?
2014 Resolution: Try the pants with a sweater. Maybe they'll work with a looser fitting one? I'm not really sure.
9.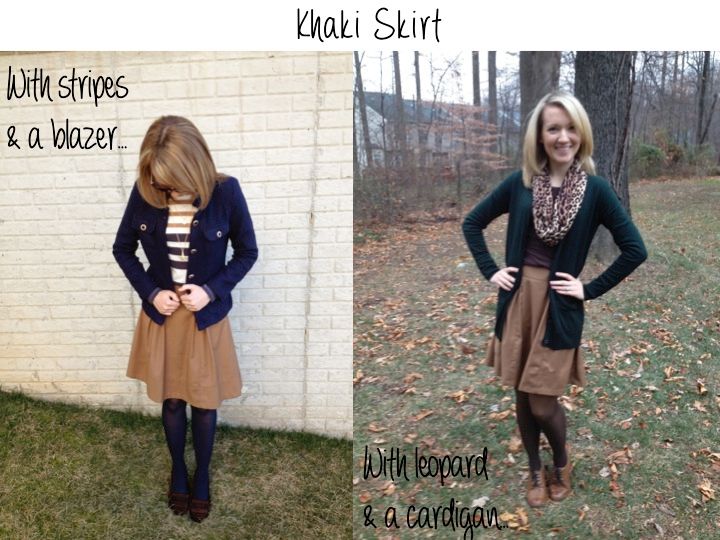 Something about A-line/flowy skirts that pulls me in. I find them very flattering.

2014 Resolutions: I need to try this skirt with boots and/or flats (only wedges and heels so far.) Also, I'd like to pair a bright colored top/blazer/cardigan/statement necklace with it. Seems I've paired it with only neutrals/deep colors.
10.
Every time I wear these boots, someone compliments them. I love the detailing on the back. I've worn them with only skinnies and dresses. I need to try them with a skirt!
2014 Resolution: I have a gray, yellow, and black skirt that would look great with them. I smell another outfit combination.
11.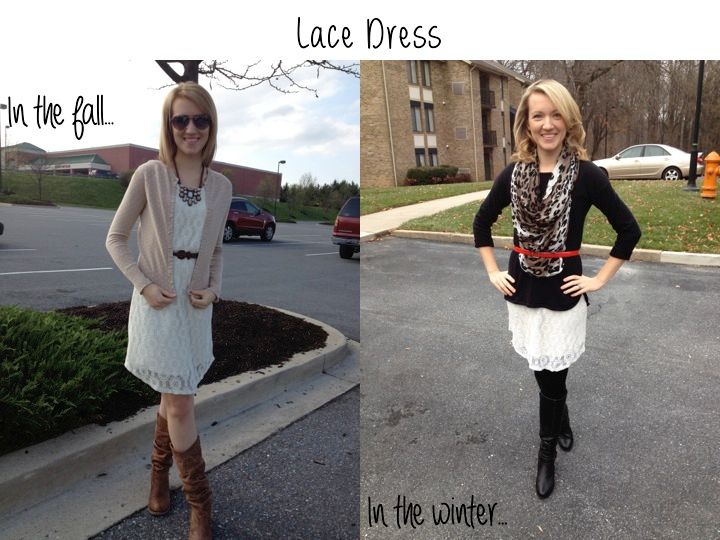 Okay, I need to branch out of the neutral color spectrum with this dress. Something about fall and winter sends me into a neutral spiral. This picture made me realize I either wear a statement necklace or scarf. My look feels incomplete without one of the two.
2014 Resolution: I have a bright magenta blazer on the way. I'd like to try it with this dress, my gray boots, and my gray infinity scarf.
12.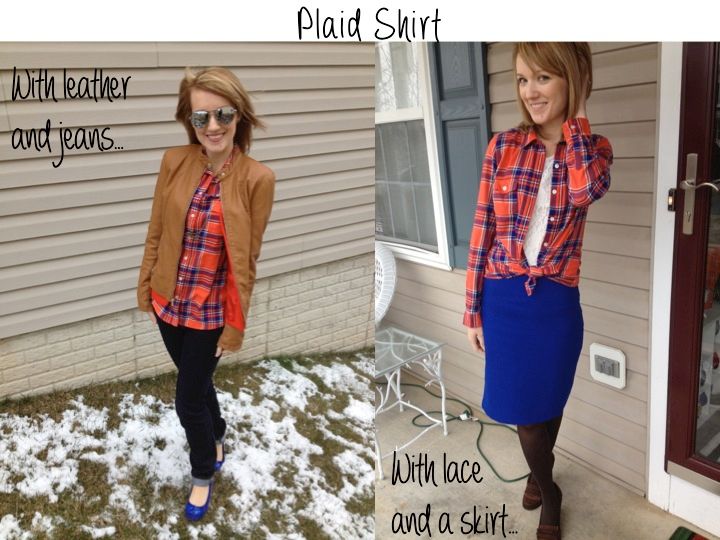 I love the colors of this plaid shirt. Again, it's from Old Navy, my favorite place to buy flannels. Oh, and there are those cobalt flats again.
2014 Resolutions: I'd like to try this shirt with grays since I've worn it with browns already. Maybe under a gray sweater or blazer? The picture on the right made me realize that I do like how pencil skirts look on me, but I do not wear them enough. I hope to wear them more in 2014 because I actually like them; however, I know I like A-line skirts better.
13.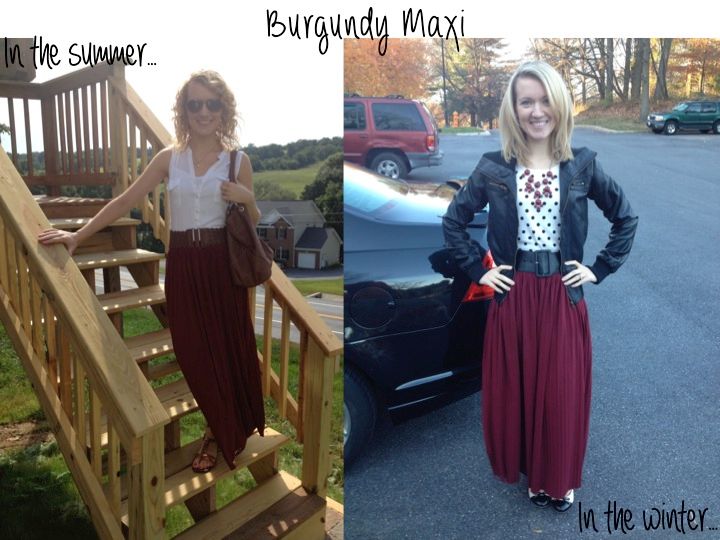 My top three colors might be cobalt, mustard, and burgundy. What can I say? I love my primary colors...no matter the shade.
2014 Resolution: Since I've worn the skirt with black and brown, I want to try it with gray. What other colors should I try?
Any suggestions? What are some resolutions you have for specific items in your closet?
Linking up with:
Molly
Monday Must Haves