The first half of this post is filled with some of my favorite things. Cue Sound of Music singing. The second portion is filled with my dry shampoo tips. (How I make it to days 3 and 4 without washing my hair.)
The Favorites
This Scarf (and obviously this woman)
It's one of those scarves that could serve as a mini blanket, which I just might enlist it to do the next time I hop on a plane.
It's $32.67 at
Asos
, but the husband caught it on a 30% off sale.
(A little birdie might have told him. A little birdie might also have told him to cancel the order after finding out that he did not type in the 30% off code at check out.)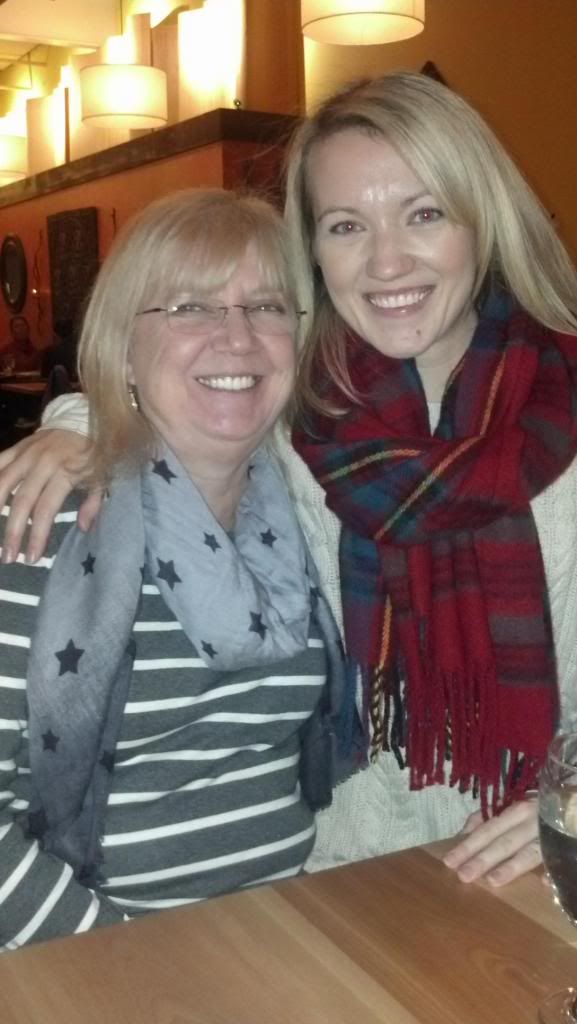 I didn't buy it because it was $60 full price, and I just don't pay full price at a store I know will throw it on sale soon enough. Patience, grasshopper.
However, I fell in deep like with this dress. It's a thick fabric, has pockets, perfect work length, and will function in any season. I'm picturing it with a striped shirt or white oxford underneath. The reviews of it are not great, but I guess it depends on your body type? I'm not sure, but it took a liking to me.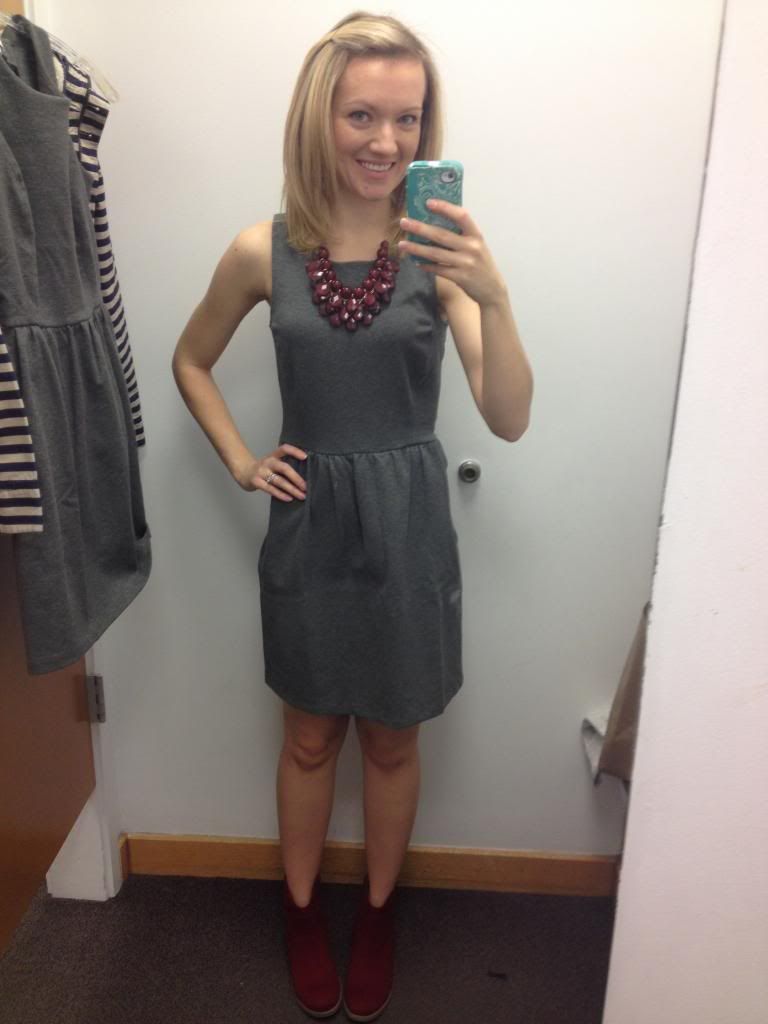 The Necklace & Booties are also new favorites
The necklace was a Christmas gift from my sister-in-law. She has such great taste, right? I especially love it with this dress and the booties. Add a blazer and a skinny belt, and we're in serious business.
The booties are
here
at Old Navy. We got them in store during a
super
sale. They were $19.19!
This Blazer
(which
is
on sale at
Gap
)
Typically, I'm hopelessly allergic to wool, which is in this blazer, but it wasn't bothering me at all despite the fact I continued to rub my neck against it like a kitten. It's the color that enticed me. I won't lie to you. Here, I'm wearing a 2. Typically, I'm a 0, but I think the arms would be WAY too small in a 0. I like the dress, too, but I wasn't sold on it.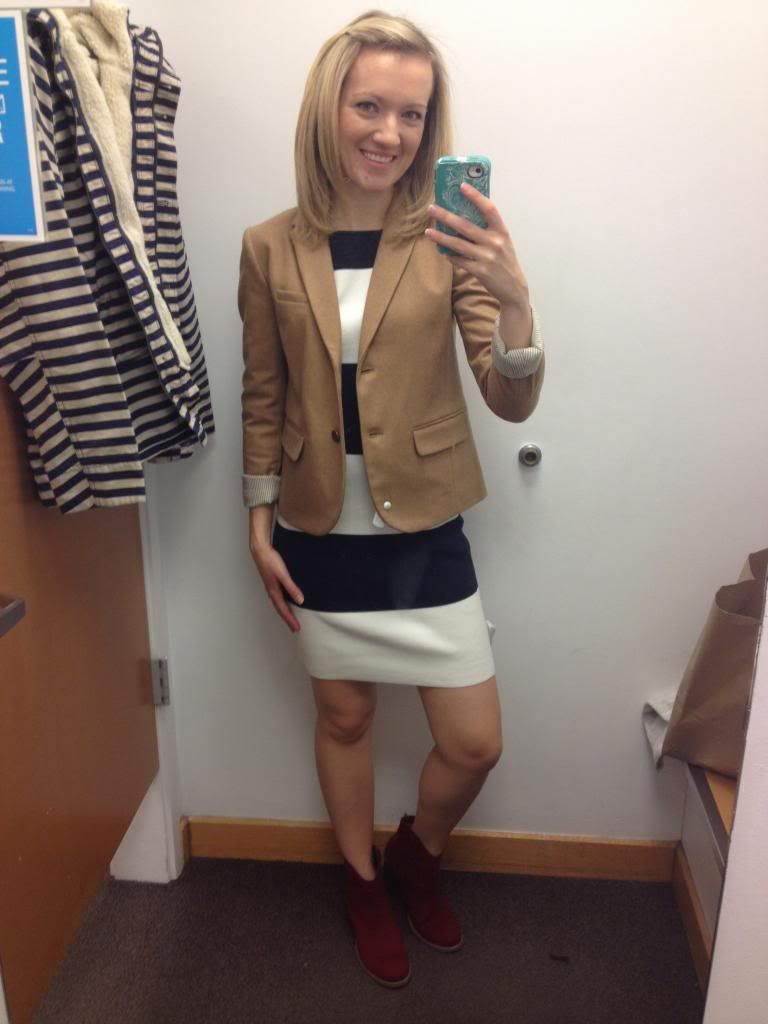 This Top & These Jeans
It was $22 on the LOFT sale rack, and it came home with me. It will tuck into a skirt really well or it'll pair well with jeans (including these!) and a long, drapey necklace. I think I just made up that term, but I have no other name for it. I cannot find the top on their site, so you'd have to check the store. It was the only one left.
As for these jeans, they're "pencil" jeans by Lauren Conrad (whose book,
Style
, I was rereading tonight! Hey, I needed a break from
Huck Finn
), which Mom found at Kohl's. Find them in two washes
here
. They're on sale for $29.99. I am wearing them in a size 0. Mom argues that they elongate my legs. I really did not expect to love them as much as I do. Thanks, Mom, for bringing another favorite pair of jeans to my closet!
Dry Shampoo Tips
Previously, I used that Suave dry shampoo you can find at Target. I'm sure drug stores carry it, but I avoid touching anything at drugstores. Too many sick people. Germs. Shudder.
Carrying on, I noticed that the Suave stuff just wasn't cutting it. It worked on second day hair, but that's about it.
Third day hair? Mmm, not so much. My locks just harbor that oil.
My stylist suggested Redken. Now, she told me that it works just fine on blonde hair, but I'm not sure how it affects brunettes. If you want some other products to try,
Vogue
suggested these 16 waterless shampoos. Redken's is one of them. (I found the link when I was looking for a picture of the product.)
Anyway, on the second day of no shampooing, I spray the dry shampoo on the roots at the very top of my head. I do not use a brush (too thick) or my hands (adds oil.) I spray the dry shampoo about six inches from my head and use a fine tooth comb because it more evenly distributes the product.
On the third and fourth days, I do not spray just the top of my head. I work in three layers.
1. Spray the top layer generously. Comb through with fine tooth comb.
2. Lift up a third of hair (just above ears) and spray generously. Comb through.
3. Spray the underside of hair (base of neck). Comb through.
Oil builds up at the roots, and the roots are not at just the top of your head. As soon as I started spraying two other layers, I noticed a big difference in how not oily my hair looked.
My Three-Day System:
Day 1--straight hair
Day 2--with a flat iron, touch up spots that went haywire during sleep
Day 3--curl hair (hides oil much better than plain straight hair)
Linking up with
Molly
and
Monday Must Haves Link Up
.