Today's shopping tips:
1. If you don't want to buy a lot, wear stuff that makes you HOT (not sexy hot but temperature hot). When I returned something in LOFT today, I realized that hot stores make me want to do nothing other than run away. Quickly. And strip off all of my clothes. And jump in the fountain with all of that scummy change. (If you legitimately want to buy things and you're a woman on a mission, then be sure to wear clothing that's socially appropriate to remove when you get too hot.)
2. Buy an item and then create outfits with it once you get home.
3. Take pictures of those outfits because sometimes the mirror lies to you when the photographic evidence tells the truth. (Since I force myself into this habit every time I purchase something, I'm much less likely to buy more in a trip.)
4. Ask your husband/boyfriend to return something for you. If you're not in the store to return the item, then you can't be tempted to buy anything in that store...uuuuunless you go to their online site.
5. Make a list of things you're hunting for while you're out.
Today, when I went to the mall, I took a few items back. Since several stores had some nice sales, I decided to peruse (only momentarily because patience is not one of my husband's virtues). I also wanted to visit Old Navy because they were running some great deals.
Purchased:
Old Navy:
* Indigo dress ($12!)
* Thick, braided white belt ($8)
* Skinny, braided black belt ($8)
(I used a gift card.)
The Limited:
* Black coated skinny jeans with gold zippers, which I plan to call my sexy pants (40% off of $39.99)
* Gold, braided necklace (40% off $6.99)
Returned
:
LOFT--sweater for $22 (I tried to find it friends in my closet, and I just wasn't impressed.)
GAP--cognac, wool blazer for $58 (I tried to make wool work, but it was a lost cause.)
Kohl's--LC blouse for $20 (I envisioned it several ways in the store. When I tried those ways at home, it was a big fail. Jeff referred to one outfit as "old ladyish." Yeah, that's not a compliment.)
Now for the outfits!
First up, my coated skinny jeans from The Limited, which I stalked online (to no avail) and found plenty of in the store. It was meant to be?
They only have sizes 10 & 12 left
online
.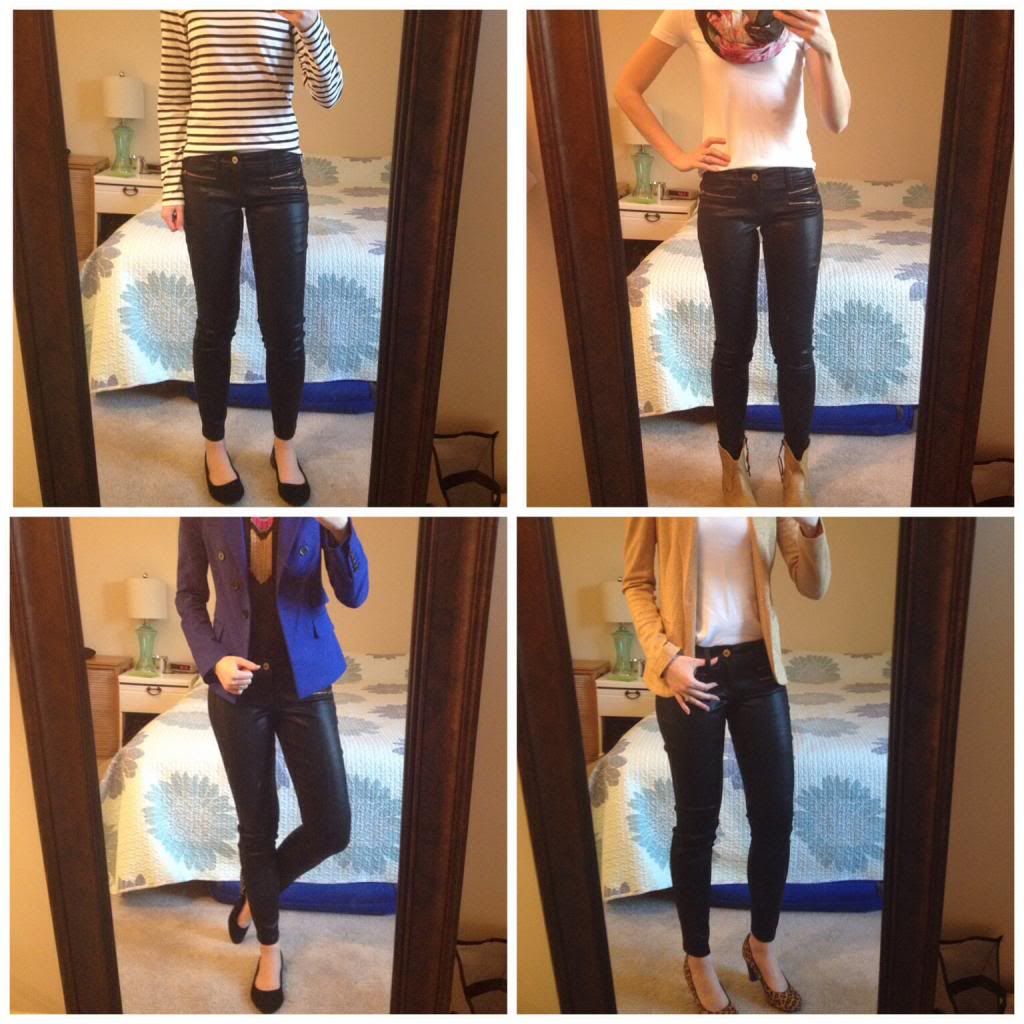 (Big image for any of you collage pinners out there.)
Outfit 1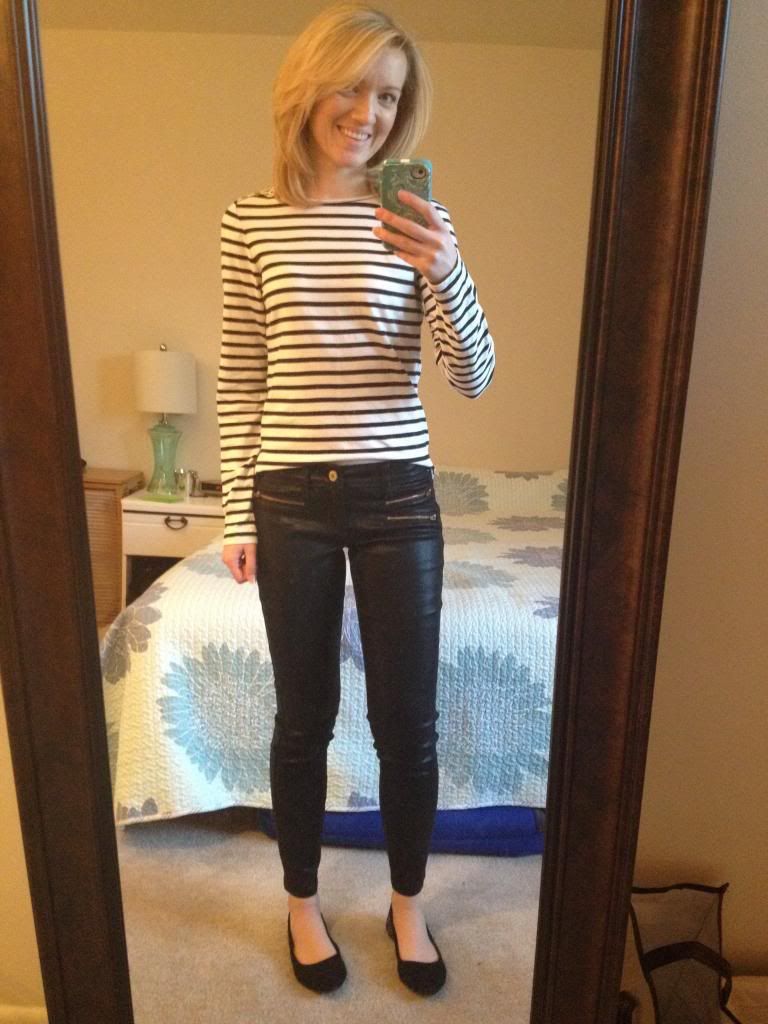 Top & Pants: The Limited
Flats: Steve Madden via DSW
Outfit 2: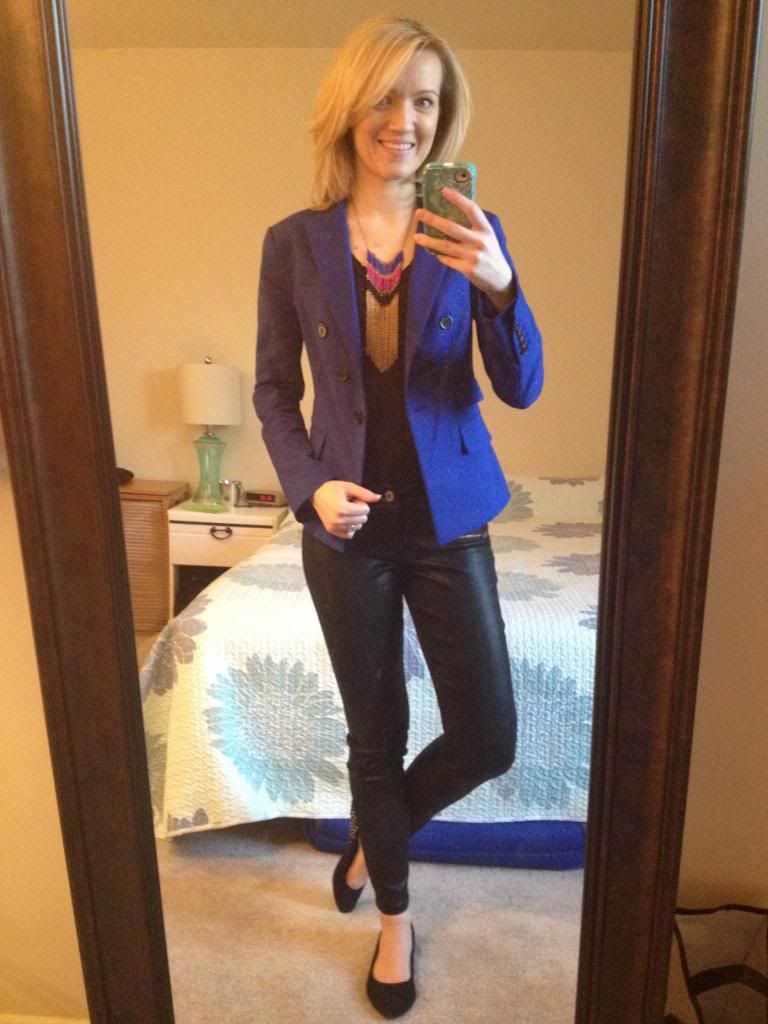 Necklace: Francesca's
Shirt: Rock & Republic via Kohl's
Blazer: Express
Flats: Steve Madden via DSW
Outfit 3: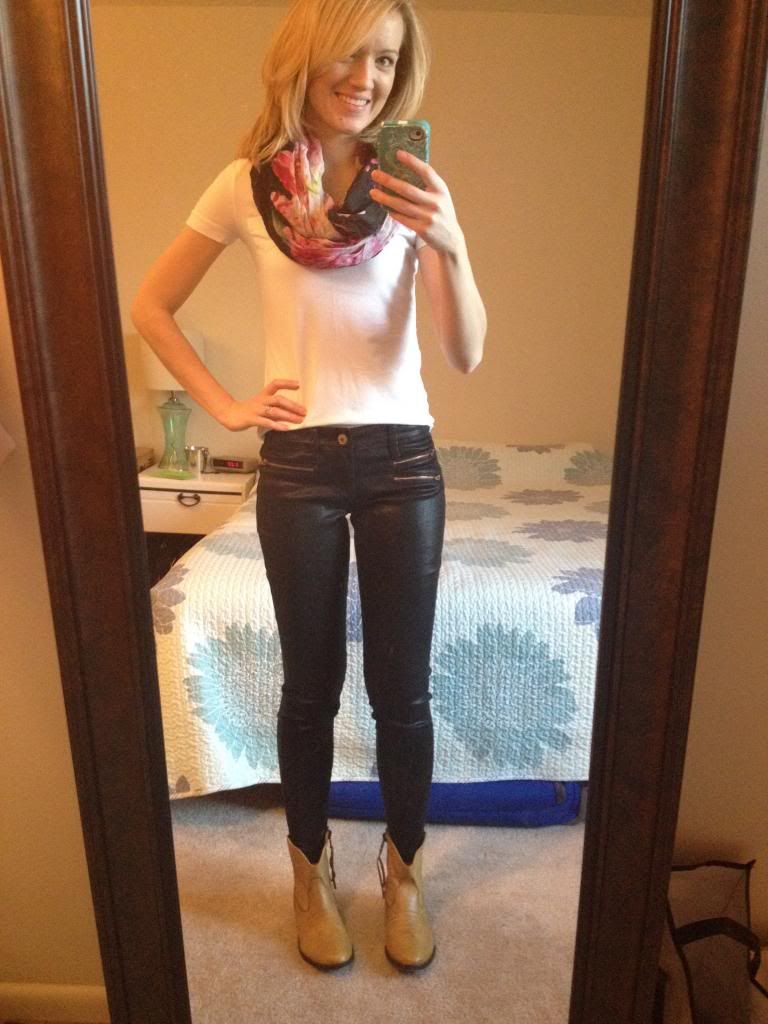 Scarf: gift from a student :)
Pants: The Limited
Shirt: Target
Boots: hand-me-down from Mom
Outfit 4: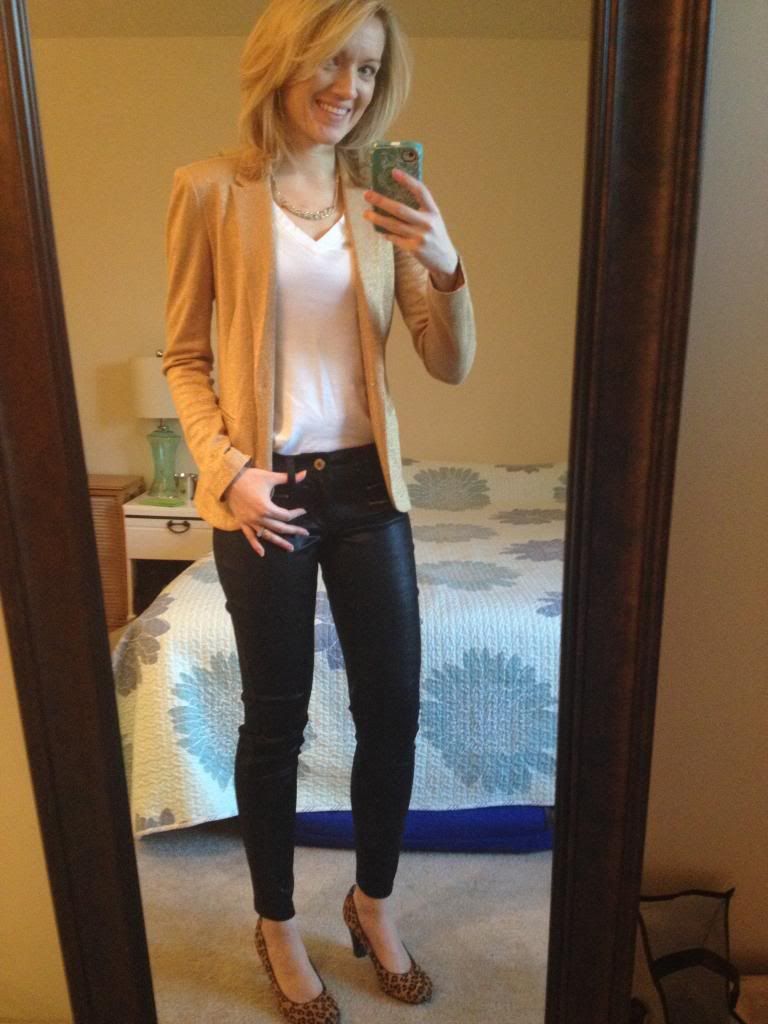 Blazer: ModCloth
Heels: Aerosoles via Marshall's
Shirt: Target
Necklace: The Limited
Next up: Indigo dress from Old Navy (
here
--it's 25% off $26 online. I got it for $12 in store.)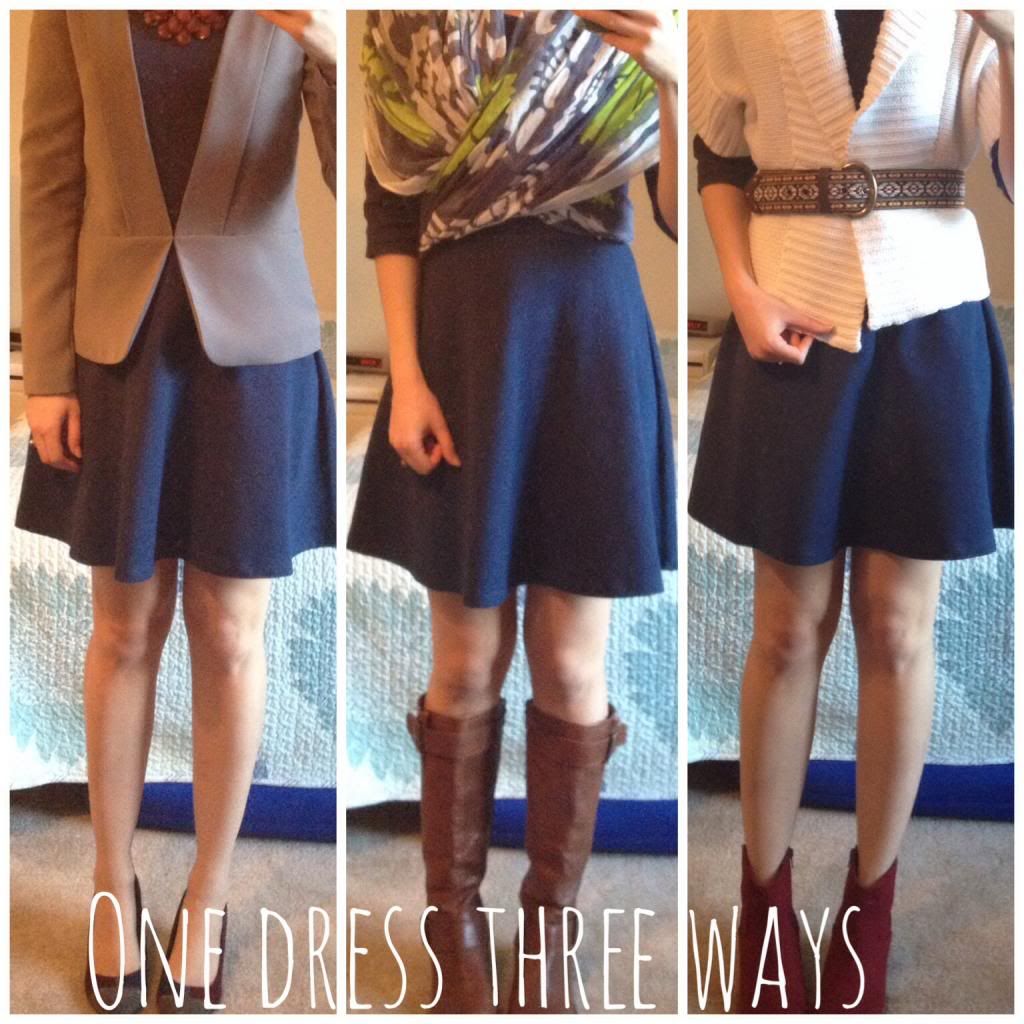 Outfit 1:
Blazer: Jennifer Lopez via Kohl's
Necklace: gift
Dress: Old Navy
Heels: via Marshall's (they're on my reverse 30x30!)
Outfit 2: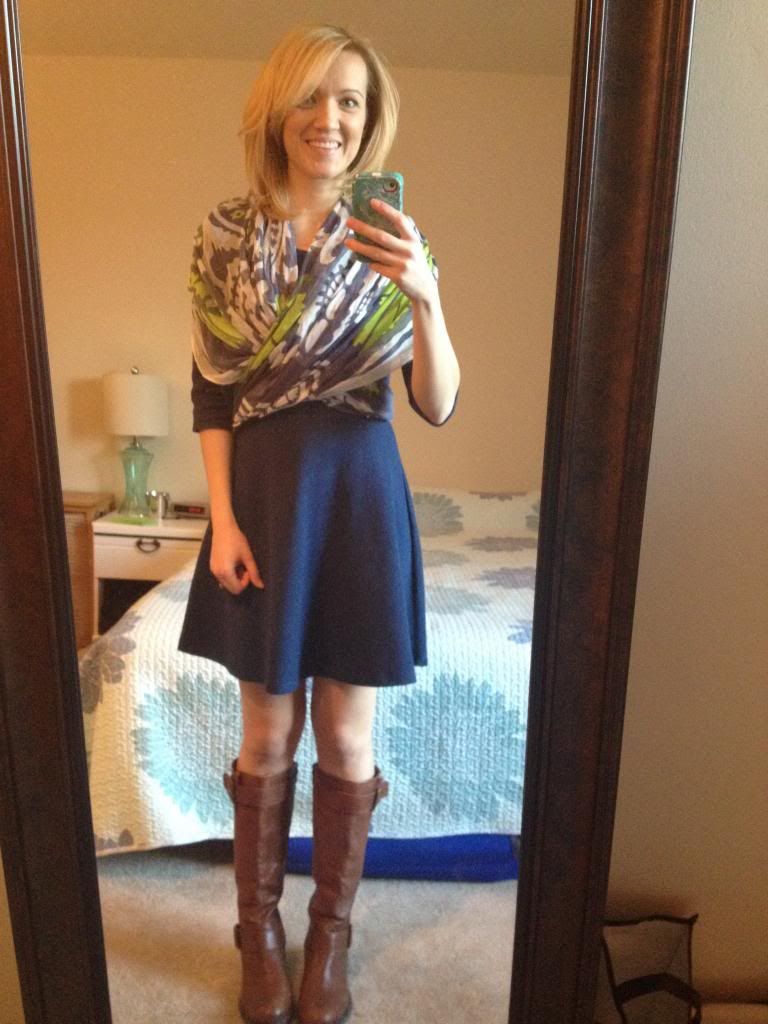 (I didn't know what to do with the scarf, so I tied it in the back around my waist. I really like it.)
Scarf: Target
Boots: Franco Sarto via Marshall's
Outfit 3: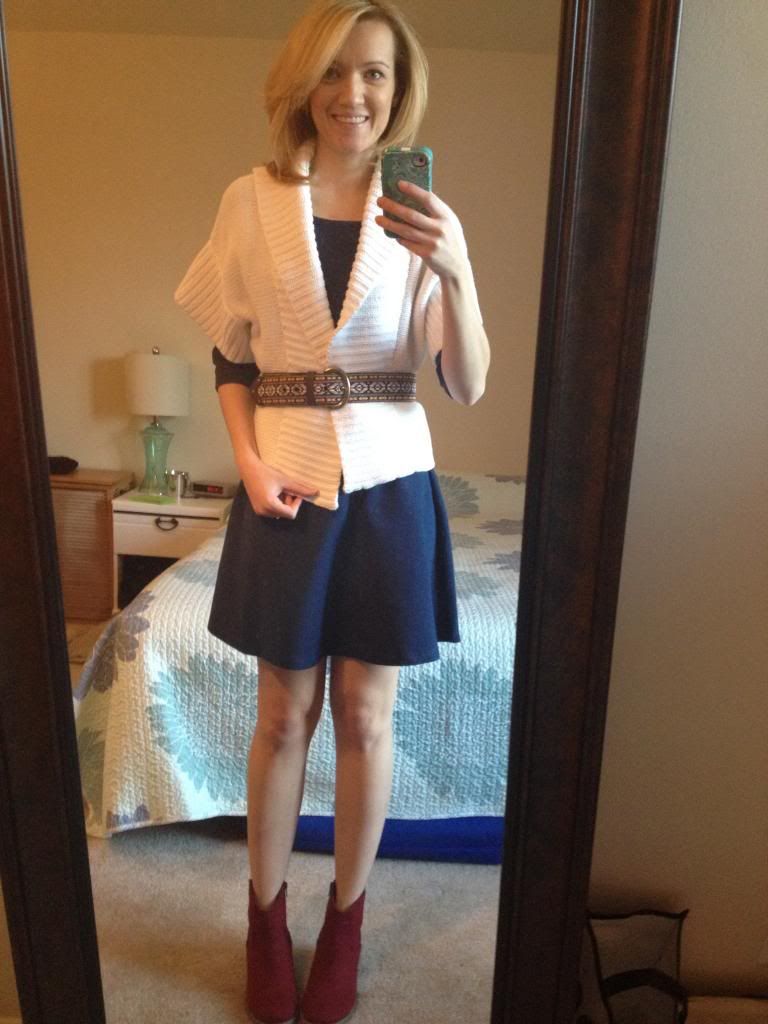 Cardigan (OLD): Express
Booties: Old Navy
Belt (OLD): Target
Outfit 4 (not pictured in collage):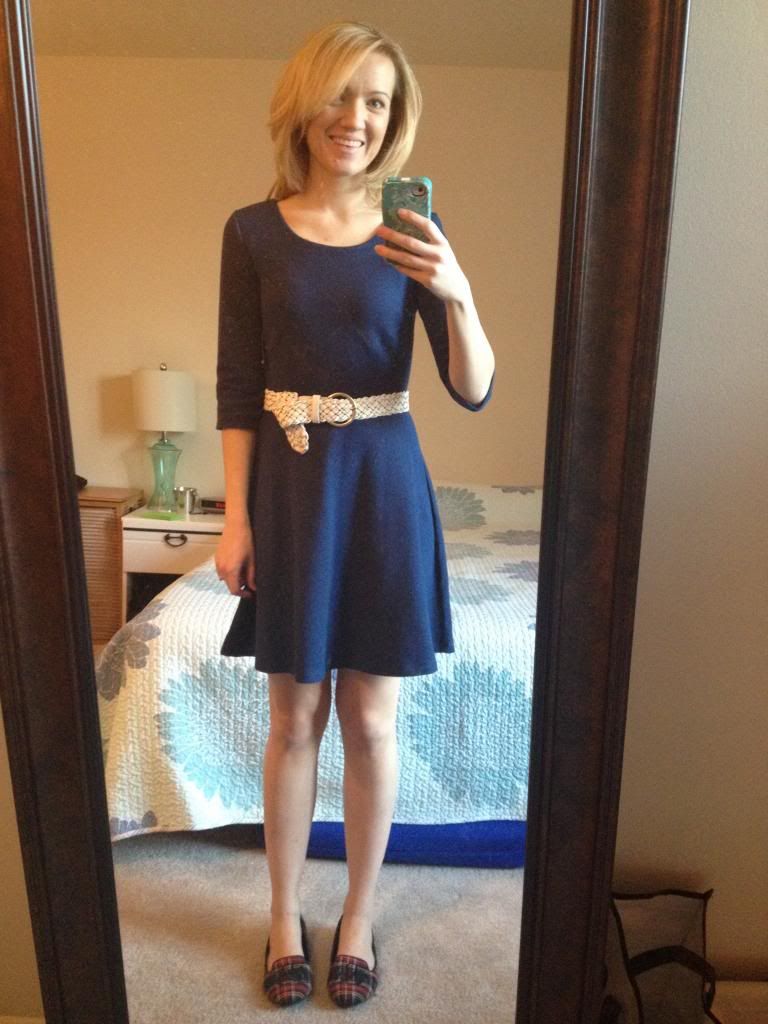 (This look will have to wait for spring!)
Belt: Old Navy (the white braided belt I got)
Shoes: Rock & Republic via Kohl's
How did I do? Did I make you want to go to Old Navy and The Limited? ;)