How am I nearing 30 and still struggling with where to put my hands when someone takes a photograph of me? Throw someone into a photo with me, and, sure, I got ya covered. Stand me in the frame alone, and I have jazz hands that move all willy-nilly. Mom scolded me for looking like I had clenched fists in some of the photos she took for this week's posts. Mom,
where do I put my hands
? Don't you know it's really hard to contain all of this awkward brimming at the surface when I pose for a photo?
She told me to look natural with my hands in my hair. If my hand is in my hair, and I'm being "natural," it's probably accompanied by a gruff grumble and an unflattering wink because those damn flyways won't stop creeping into my eyeball. That pose does not a cute photo make. I could put my hands on my hips, but sometimes that feels too sassy despite my being quite the sassy broad. I could put them in my pockets, but then I look handless in some photos. I could let them dangle, but then I run the risk of looking like a primate because I have pretty long arms.
Clearly, I need to do some research on this matter.
Out of all of this week's looks, I think this one was Mom's favorite. These pants feel like pajamas, and she must have known that. Because if Mom values anything sartorially, it's comfort. I am most
definitely
my mother's daughter.
Note: I couldn't pick a favorite from this week if I tried because I love
every
single outfit
, and I don't usually say that about what I've picked out for the week. I have lots of layers, outfit formulas, and prints coming your way.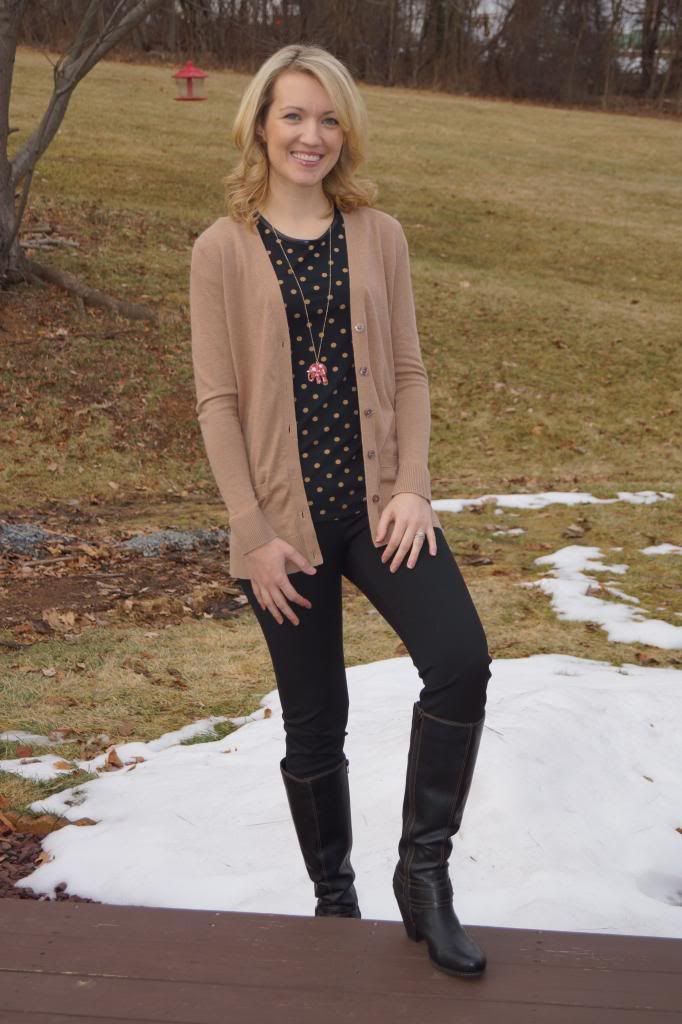 The Look:
Shirt
: Express (here's a polka dot shirt from
Forever 21
)
Pants
: Express (
exact
--absolutely worth the money)
Boots: b.o.c. via DSW (best boots EVER)
Necklace
: Lauren Conrad via Kohl's (another cute elephant necklace by
Lauren Conrad
)
I bought them last year, so they're not online. Sorry :(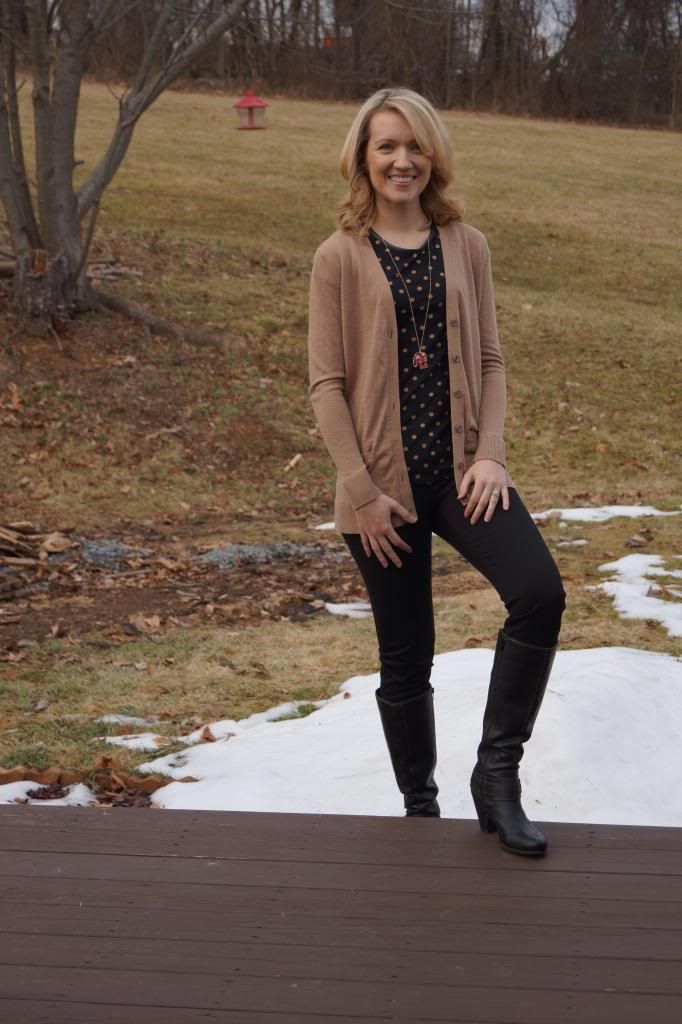 Ignore my hands.
I cut out my "clenched" hands in this photo. You're welcome.
(I tried belting the pants, but it looked weird. I preferred the untucked shirt here.)
This "formula" (boyfriend cardigan + untucked shirt + skinny pants + boots) has worked for me before:
Tomorrow, I'm wearing an outfit that
Danielle
over at Goodwillista picked out for me based on clothes she knew were in my closet. I'm going to be honest: it might be one of my very favorite looks ever! Will you link up for
Style Swap
with Ginny and Jenn this week? (You absolutely should.)
OH OH! Tomorrow's Trendy Tuesday theme is Blazers and Button Ups.