Thank you, snow, for arriving in a small enough amount that we have only a two-hour delay this morning. I would have resented you for thwarting my Trendy Tuesday plans had you caused a cancellation. Also, I really enjoyed that extra hour of sleep :)
What is it about khaki and white that feels so crisp and fresh? Though I'm a girl who loves her color, I think khaki and white might rank as one of my favorite combinations. I think the cognac adds just the right amount of contrast, no?
I would also like to advocate taking all of the week's pictures on the weekend. You need only one good hair day, you get to spend the day with your mom if she's the one who takes your pictures, and your outfits are already picked out for the week. Man, it makes every morning so much easier.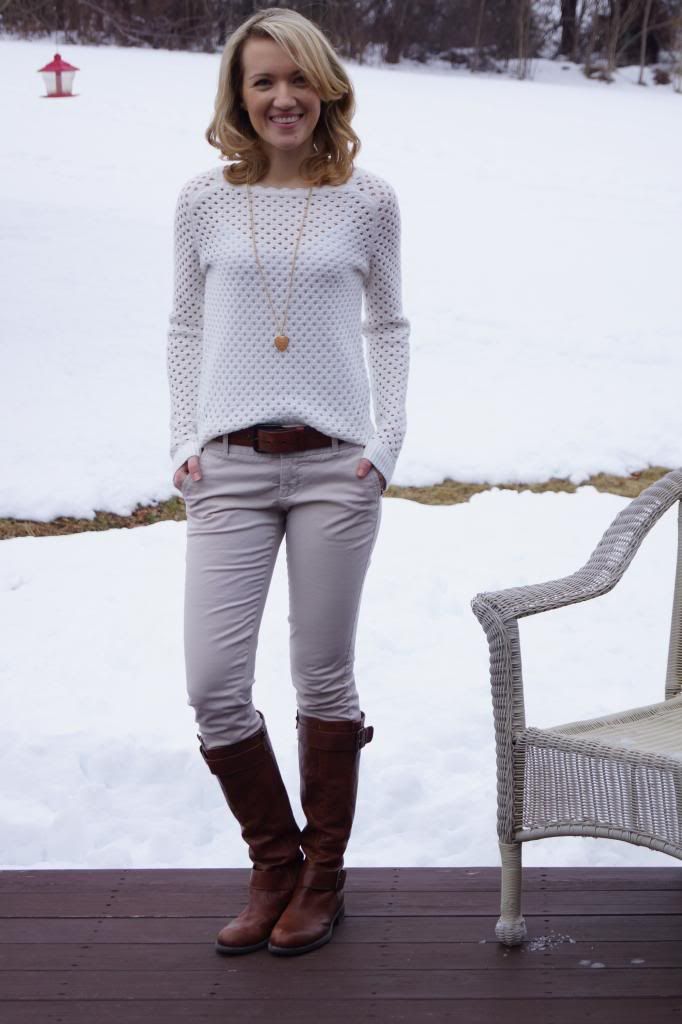 The Look:
Sweater
: LOFT (
exact
in 4 colors and 30% off today only)
Necklace: borrowed from Mom (it's Lauren Conrad...surprise surprise)
Boots: Franco Sarto via Marshall's
Belt: OLD American Eagle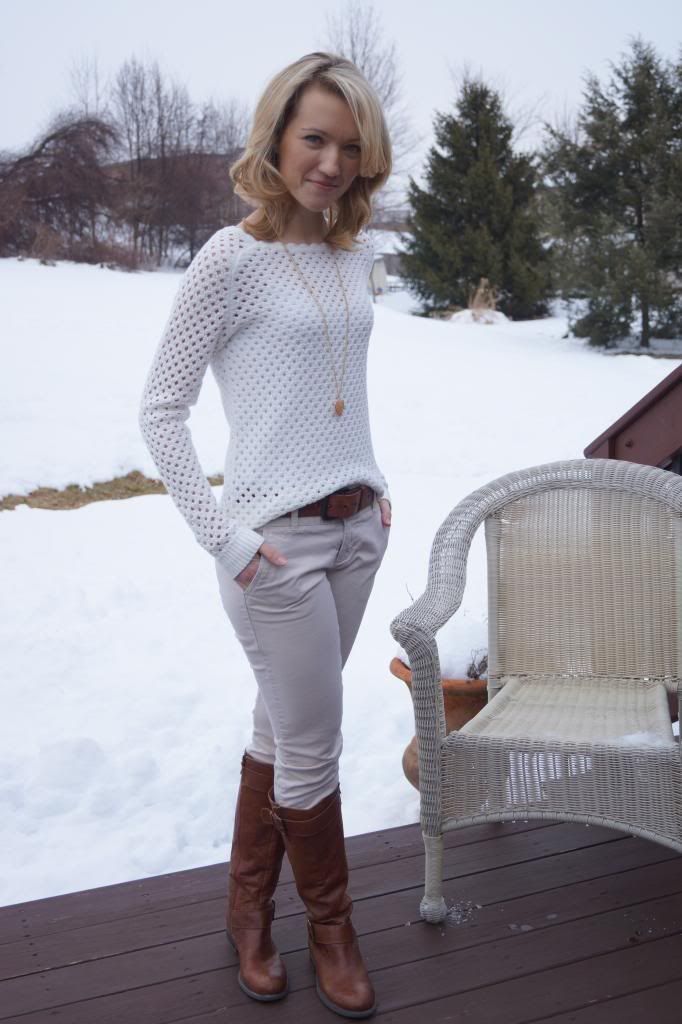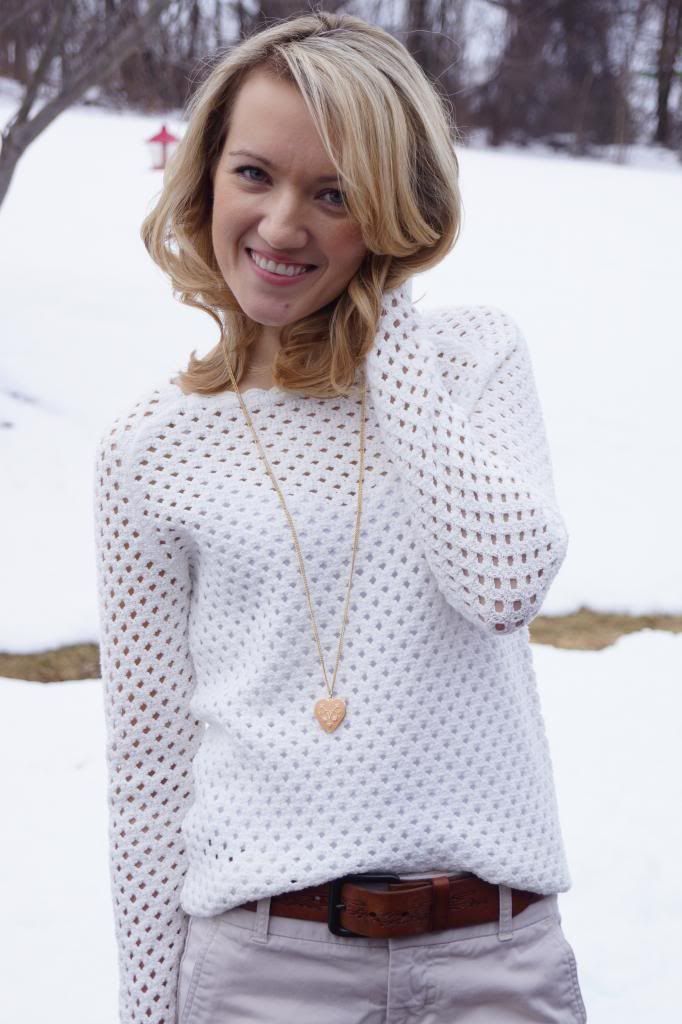 So,
Groopdealz
hosted a giveaway on their Instagram, and I won a J.Crew gift card, which I naturally used at the less expensive J.Crew Factory...online.
Clearly, I do not know my size in fancy stores because three items were huge hits, and three were huge misses. If you follow me (@likewo) on Instagram, you saw these last night.
Let's start with the hits:
Positano blue (absolutely chose it for its name because of Under the Tuscan Sun) sweater
Striped cardigan (SO SOFT)
Coral (which I'd thought was red, but I like better as coral) sweater
I purchased all of these in a size small, and they were the perfect fit, which is why you'd think the next three things would have fit better.
Retailers confuse me. I can range anywhere from a 0 to a 6 depending on the store (only 6 I've bought was a pair of Old Navy Rockstars; those pants are weird sizes because I bought another pair in size 4.) I thought J.Crew and its factory might be cut smaller, so I opted for a 2 instead of a 0. Seriously, J.Crew Factory? I can pull off the shorts without unbuttoning them. Though I'm sure my husband enjoyed that demonstration in the living room, I did not. Now, I have to visit the craphole that is the local outlet center in order to exchange the items. When I told Mom, she said to "bring an armed guard" if that tells you anything about that particular establishment. But HEY, Danielle, beggars can't be choosers, you ungrateful butthole.
White shorts (I wanted them to work SO badly.)
Navy gingham shirt (will this shrink enough that a small is the right fit? Or, should I opt for extra small?)
Rolled-cuff jean shorts (oh my gosh, the jean material is so comfortable, buuuuut they're a smidge too big.
Squirt's face illustrates the situation.
Suggestions for shopping at J.Crew? I probably should have gone to the regular store (not factory) near me to try on sizes first. That would have been the smart, less impatient, thing to do....
---------------------------------------------
Linking up with
and
If you participated in this week's Trendy Tuesday, throw a little #trendytuesday on Instagram and add me (@likewo)! I'd love to see your looks! Feel free to comment that you posted your look on your blog today, too.