This style swap might technically be cheating because I picked out
Lauren's outfit
based on clothes I knew she had. (Blogging is a fancy word for "legalized stalking.") Anyway, Lauren wanted me to wear my mustard blazer. She suggested a cute outfit, but it was a horrific failure on my part. I couldn't make it work. I am purple + mustard deficient (
Kate
thinks I'm crazy), and I can
not
pattern mix like
Ginny
. Since I knew Lauren liked my mustard blazer, and I loved how the outfit I picked for her looked, I snagged it for myself. Who knew a blue and white striped shirt could be so versatile?
Okay, everyone knew it. Whatever.
My issue is that I'm not wearing a necklace, and it bothers me. Don't worry. I remedied the problem after I saw the pictures.
I plan to recreate this outfit with white skinny jeans. I just realized that Lauren wanted me to wear my white skinny pants, but it was too cold for heels. I totally could have worn these boots with my white jeans. Where is my brain?
One of my favorite friends who shares my passion for fashion is turning 30 today. I love you, Amy! In middle school, Amy and I bought matching olive green velvet blazers. We both wish they still existed because we would totally rock them. For the past two Thanksgivings, when she came down from Boston, we went out for normal Black Friday shopping. This year, we're thinking about visiting a cute, fun, downtown shopping area. I'm pretty fond of this tradition we've got going for us.
Tomorrow is Momma duke's birthday, so feel free to send her some love in the comments. She reads my blog :) Oh, and I'm taking her for a massage tomorrow because I know she won't buy them for herself, and I know she won't go unless I'm getting one, too. Thank you for being such a beautiful person. Thanks in large part to you, I am comfortable in my own skin. I love you, Momma.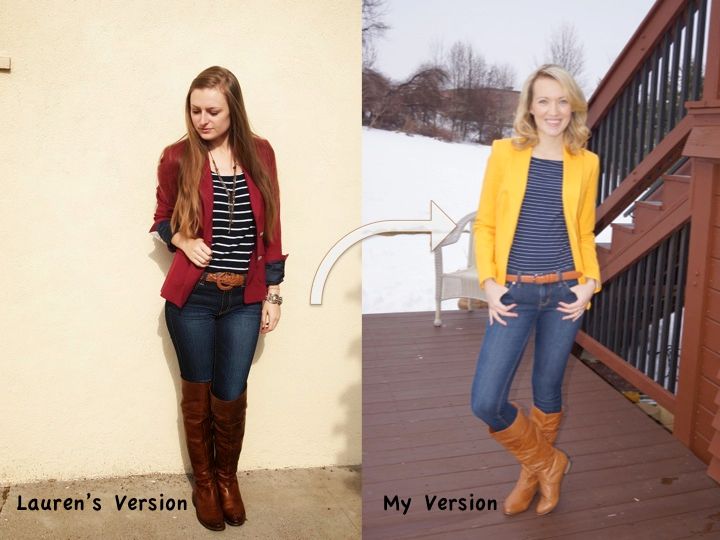 The Look:
Blazer: Vince Camuto via Nordstrom
Jeans: The Limited
Boots: Steve Madden
Belt: New York & Co.
Shirt: H&M
I also wore my mustard blazer this way...and other ways that never
made it to the blog. Oops.
-------------------------------------
Linking up with
and
-------------------------------------
TRENDY TUESDAY (2/25): Boots
In honor of one of our male colleagues who wears his cowboy boots quite often, we chose this theme for him because he always wants to participate in Trendy Tuesday but doesn't think he "can."
Here's to you, my favorite math teacher.