Well, if 10"+ of snow weren't staring at me from below my apartment window, this outfit is what I would be wearing for conferences tonight. Instead, I'm wearing 15-year-old pajama pants, a thermal shirt, and a North Face zipper up. (Hey, it all matches.)
So, we had conferences last night. The snow had started to fall and stick on the roads when I finally left the building after conferences. When I stepped into the parking lot, who was there? My husband. He had cleaned off my car, started it, pushed the heated seat button, and drove behind me so as to keep people off my butt. Seriously, I hit the husband jackpot. Currently, he is driving his truck to his parents' house 15-20 minutes away so that he can shovel their driveway for them. On Saturday, I have a massage appointment that's "not for Valentine's Day because we're not getting each other anything." That man's kindness never ceases to amaze me.
Okay, I'll bypass the sappiness and continue with what would have been today's outfit.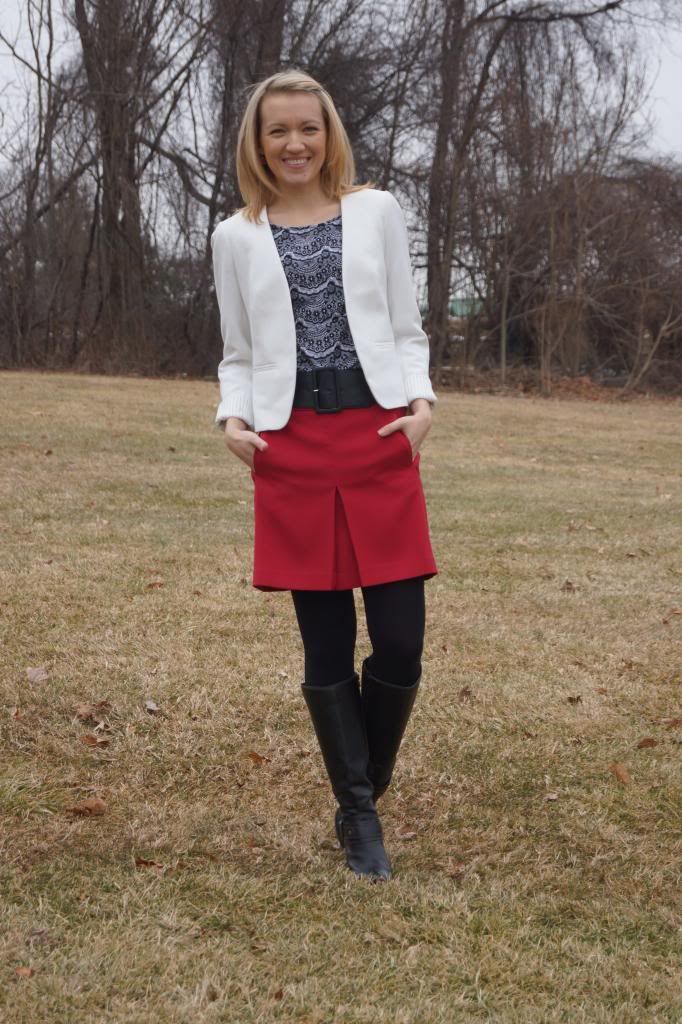 The Look:
Blazer
: LOFT (on
SUPER
sale but very few sizes left--I got it for $32, which is quite a score for a gorgeous LOFT blazer like this one!)
Skirt
: LOFT (close
option
from Target)
Shirt
: New York and Company (really cute $9
options
at Kohl's)
Tights: The Limited (can't find them online anymore)
Boots: b.o.c. via DSW (bought them almost two years ago)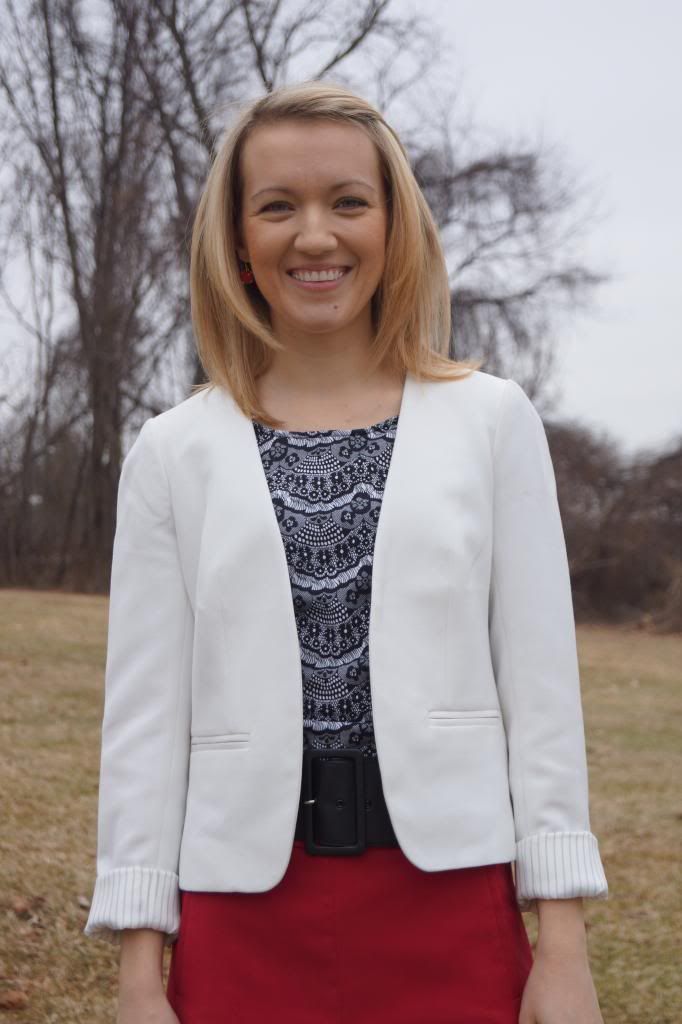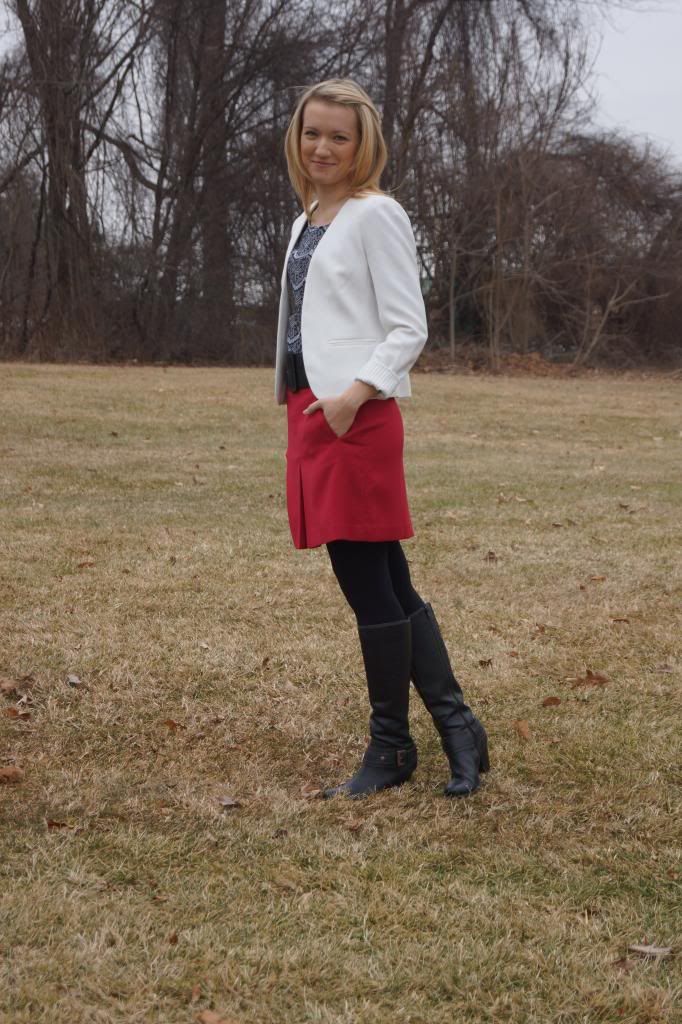 I wanted to make you laugh today, so I included the following two pictures.
I'm not entirely sure what I was doing, but it wasn't bringing sexy back.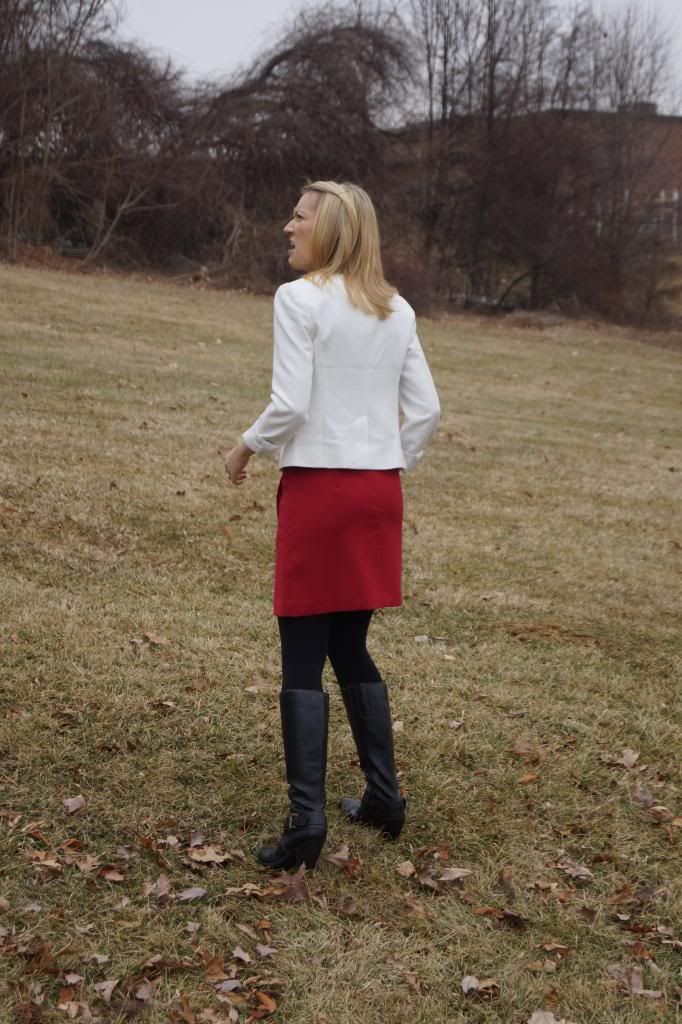 I laugh so hard. She snapped a picture of me as I disgustedly asked, "IS THAT A DEAD BIRD CARCASS IN THE TREE!?" Mom assured me it was not, but I'm still speculating.
--------------------------
Linking up with
and
------------------------
Join our red and white link up :)